Qualtrics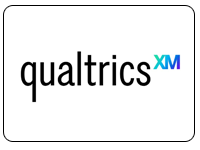 Qualtrics is an industry-leading, cloud-based survey platform that can be used for research surveys, registrations, and other administrative survey needs. All faculty, students, and staff have access to a Qualtrics license through the campus enterprise license.
To activate your license, login to illinois.qualtrics.com and use your university credentials when prompted.
I have an account on uiuc.qualtrics.com. How do I migrate to the campus license?

Campus has purchased Qualtrics enterprise licensing for all faculty, students, and staff. It is immediately available at https://illinois.qualtrics.com/


All surveys currently on Gies Qualtrics accounts (uiuc.qualtrics.com) will need to be moved to the new license before December 2023. IT Partners is working with CITL (the campus Qualtrics license manager) to develop an efficient strategy and instructions for moving existing surveys to the campus license. Additional communication to existing Qualtrics users is forthcoming.

In the meantime, we ask that any NEW Qualtrics surveys be set up in the new illinois.qualtrics.com instance so that we can minimize the number of open surveys that need to be moved. You can set up a new account at https://illinois.qualtrics.com/ now. Please note that none of your existing surveys, workflows, or other assets will exist in the new account. Qualtrics will allow for Gies users to have accounts in both uiuc.qualtrics.com and Illinois.qualtrics.com for the remainder of 2023 to facilitate the migration.

Please note that there is no change to any existing and/or running surveys on our current uiuc.qualtrics.com license at this time. We will provide instructions and support when the time comes to move them.

If your students are running Qualtrics surveys as a part of a class this semester, please do not initiate a change with them during the semester. We will have instructions for student use later this semester.

We realize that this will be a significant migration for many in Gies and that you may have a lot of questions. IT Partners will work with you to simplify the process as much as possible. More information and assistance are coming soon!

Access Qualtrics ›