Facilities Support
IT Partners provides technology design, consultation, and support for all office and common spaces and events in BIF, Wohlers, and Irwin.
Deloitte Auditorium
The presenter podium in Deloitte Auditorium includes a resident PC, audio (4 lapel, 2 handheld mics), lighting controls, and external laptop connections. Sessions in the auditorium can be recorded, broadcast live via Zoom, or live streamed. While the basic auditorium technology can be used without assistance, IT Partners can provide help upon request to faculty and staff using the auditorium.
Conference Rooms
All Gies conference rooms are equipped with large flat-screen displays, video- and audio-conferencing equipment, resident computers, and connections for a variety of laptops.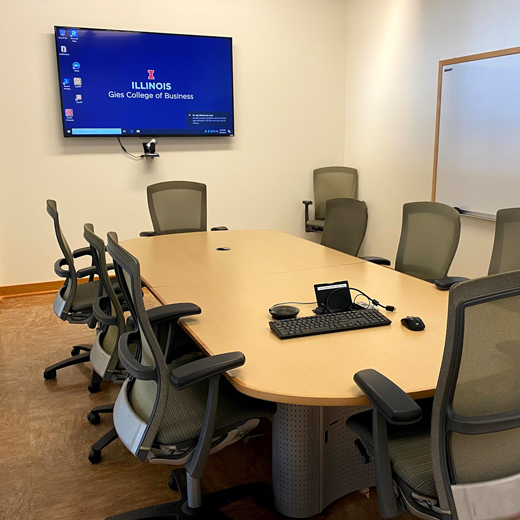 Atrium Audio
A microphone and PA is available for small events in the BIF atrium (and 370 Wohlers). To request the PA for an event, please send a request to helpdesk@business.illinois.edu. For larger events, we recommend contracting with Facilities & Services for an audio engineer.
Facilities Support FAQs
Do I request IT support separately from space reservations?
Yes! Space can be requested via your unit or Virtual EMS (if you have direct access).
Do I need IT support for my event or meeting?
Chances are, you'll be able to use the technology in the space you've reserved without IT assistance. Our spaces are designed to be self-service. If you're not comfortable on your own, please email helpdesk@business.illinois.edu and we'll be happy to train you or directly support your event or meeting.
How do I get immediate help?
To get help immediately prior to or during your event, please call 217-333-6568. Phone support is available M-Th 8:30am-9pm and Friday 8:30am-5pm.