Jun 14, 2023 Accountancy Alumni Business Administration Faculty Finance Student
Nehemiah Scott chosen to lead undergraduate programs at Gies College of Business
Dean Jeffrey R. Brown and Executive Associate Dean Brooke Elliott announced today that Dr. Nehemiah Scott has been named the new Associate Dean of Undergraduate Programs at the University of Illinois' Gies College of Business. He replaces Dr. Kevin Jackson, who took a new position as Vice Provost for Undergraduate Education at the University of Illinois Urbana-Champaign in October. Scott will officially take the role on July 16.
He is currently a teaching professor of business administration and director of Gies' supply chain management program. He joined the College in 2015.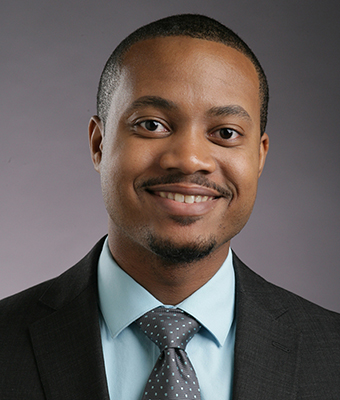 "For the last eight years, Nehemiah has been a vital part of our Gies community, and I'm delighted for him to step into this new leadership role," said Jeffrey R. Brown, Josef and Margot Lakonishok Professor in Business and Dean. "He has a tremendous amount of respect for the academic rigor of our undergraduate programs, while at the same time, he is committed to finding new ways to break down barriers to education. He has a heart for our students that is clear and obvious in every one of his interactions and actions."

As associate dean, Scott will lead strategic planning, operations, budget, and communications — all with a focus on creating an unmatched student experience — for the Office of Undergraduate Programs at Gies. This includes admissions and recruitment, academic advising and student success, student engagement, academic affairs, access and multicultural engagement, and global programs. Gies has provided undergraduate education for more than 100 years and is widely recognized as one of the Top 5 public undergraduate business schools in the nation.

"I'm honored to be the next associate dean of undergraduate programs at Gies, and I'm looking forward to elevating the standard of excellence we have built over the last century," Scott said. "At my core, I want to see our students be well, do well and realize enduring success in their own way, both inside and outside of the classroom. It is our responsibility to advise, encourage and support them along that journey. I also look forward to providing our students with transformative educational experiences and leadership opportunities that inspire and show them how they can lead with purpose."

During his eight years at Gies, in addition to teaching, he has served in the supply chain management program – holding several leadership positions within the major. Scott earned three degrees from the University of Toledo: a bachelor's in computer science and engineering technology, an MBA, and a PhD in manufacturing and technology management. Prior to joining Gies, he worked in the private sector and held teaching roles at the University of Toledo and Eastern Michigan University.

"Nehemiah has taken on progressively larger roles throughout his time at Gies, and he has exceeded expectations every step of the way," said Executive Associate Dean of Academic Programs Brooke Elliott. "He is an innovator, leader, and motivator who cares deeply about our students and is personally invested in their success."