Jun 1, 2023 Accountancy Alumni Business Administration Faculty Finance Student
Gies students partner with small businesses in Diverse Supplier Development Program
The Magelli Office of Experiential Learning at Gies College of Business gives students access to real-world, client-based projects. And through the Diverse Supplier Development Program, the Magelli Office goes a step further, creating opportunities for students to make an impact for small businesses from diverse backgrounds.

The Diverse Supplier Development Program is a University of Illinois System initiative that started in Fall 2022 with a cohort of 25 businesses paired with student consulting groups from Gies Business (Magelli Office), the College of Media (Brand Hub), and the University of Illinois Chicago. The program strives to help diverse businesses grow and gain opportunities by working with student teams. It also features a nine-month series of educational workshops.
The Magelli Office sprang into action when asked to help launch the program. As home to Illinois Business Consulting (IBC) – the largest student-run, professionally managed consulting organization in the US – along with action learning courses built into the Gies Business curriculum, the Magelli Office was an easy match for the Diverse Supplier Development Program. IBC provided services at a 50 percent discount, and the action learning course provided services for free.
"We have these mass resources; these very smart students who are connecting with these teams very deeply as part of their learning, and it's a win-win-win for the students, the companies themselves, and the system," said Jacob Kinsey, director of Gies Consulting.

The Diverse Supplier Development Program allows the Magelli Office to focus on an area students may not be familiar with – small business. Specifically designed to help minority- or women-owned small businesses, as well as small businesses owned by veterans or people with disabilities, the program introduces students to the challenges and opportunities small businesses face, also allowing them to network with leaders from the companies.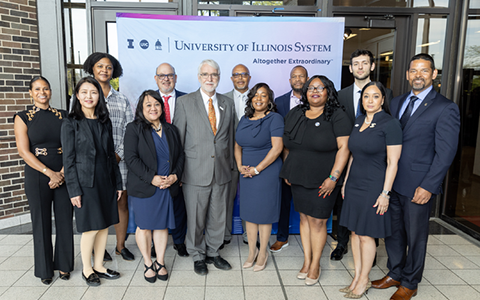 "Owning a small business is really challenging," said Marissa Siero, who was the director of experiential learning at Gies Business when the Diverse Supplier Development Program started. "I can speak from experience as a previous business owner myself. Some of the constraints are related to person-power, so I know that a lot of our companies appreciated the team of students to come alongside them."

Denise Brown (LAS '85) was excited to join the program and work with her alma mater once again to get help with her small business – the Caregiving Years Training Academy. As founder and owner, Brown wanted to improve her website to help increase enrollment in her training program, which teaches people how to care for a family member or friend.

Brown was paired with a team of six students in Gies' residential Master of Science in Management (MSM) program. All students in the program take an action learning course during their first semester.

"The thing about it that was really a surprise in a really pleasant way is how committed they were to creating something successful for me," Brown said of her student team. "They really felt like they were part of my organization, that they were in it to win it for me, that they wanted results that I wanted."

MSM student Katie Julkowski echoed that excitement, having been drawn to the company by Brown's passion to help people and the opportunity to help a woman-owned business.

"I learned a lot through this program," Julkowski said. "I learned how to work with other teams. I learned how to work with a professional client for the first time. I learned how to navigate tough situations. I learned how to do better research."

With over 25 years of providing experiential learning opportunities for students, Illinois Business Consulting (IBC) also had success in the Diverse Supplier Development Program's first year.

"I think that it was an amazing program," client partner Cathy LeSure-Harris said. "The students were really in tune, and they took it like a real job. They were professional, and they did their due diligence and their research."

LeSure-Harris is the director of diversity and operations at EMED Medical Company, a medical products and pharmaceutical wholesaler founded in 1999 that recently made the leap to manufacturing as well. She was paired with a team of nine IBC students to help create a marketing strategy.

Janani Sumitra Jayanth was the project manager for the team that helped EMED enhance its marketing plan and was grateful with all she learned through the program. Jayanth, who is majoring in economics with a computer science minor, demonstrates IBC's ability to bring students together from across campus. Although it's housed in Gies Business, students from any major can apply to IBC.

"IBC, already with just three semesters, has taught me so much in terms of professional skills," Jayanth said. "I'm so much better when it comes to interacting with people professionally. I have so many more experiences now. I've worked with real-life clients. I've gotten to lead two teams now and also work with senior managers. It feels like a real-life work situation in a lot of ways."

After a successful first year, the Magelli Office plans to continue its role in the Diverse Supplier Development Program, giving students more opportunities to foster growth for and learn from diverse businesses in the future.
"It was really quite inspiring to see the talent that the university really nurtures and nourishes, so much so that you feel like our world is in good hands with these students," Brown said. "They were so professional, so eager to learn about the business, and eager to make a difference. I would encourage all companies to consider working with a team of students."

Learn more about the program and find the client application on the Diverse Supplier Development Program page. Clients must apply by June 30. Not a diverse supplier? Submit a project through the Magelli Office of Experiential Learning at Gies Business.