Mar 27, 2023 Alumni Business Administration
Adkesson leads Brookfield Zoo with Gies iMBA skillset
Growing up, Mike Adkesson thought he'd spend his career as a zoo veterinarian, but instead he now oversees more than 2,500 animals – from gerbils to gorillas to giraffes – as president and CEO of the Chicago Zoological Society and Director of Brookfield Zoo.
Within a couple of years of completing a Gies iMBA he was tapped to lead the non-profit organization that draws two million annual guests and generates over $153 million in annual economic activity.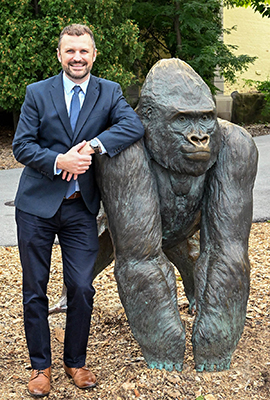 "It was so special to be able to come back to a university that I already love and hold very deeply in my heart," said Adkesson, who earned his doctorate in veterinary medicine from University of Illinois in 2004 and completed his MBA from Gies in 2020.
Earning an MBA had been on Adkesson's radar for some time, and he watched with interest as Gies got the iMBA program off the ground seven years ago. He said he was drawn to the flexibility of the program, which made it easy for him to integrate the coursework into his work life.
"Many of the other programs I looked at required weekend cohorts or some campus presence. Finances came into play, too," said Adkesson. "Ultimately, I came back to Illinois because I loved the innovation Gies brought to the iMBA. I loved the out-of-the-box thinking and fresh approach."
Adkesson joined Brookfield Zoo, located in Chicago's western suburbs, in 2008 as an associate veterinarian of clinical medicine.
"I spent some of my medical rotations at Brookfield Zoo, so this organization has been part of my life for a very long time," said Adkesson, who in 2012 stepped into a leadership role as VP of clinical medicine, overseeing all of the animal healthcare and hospital operations and the veterinary staff. "I was overseeing the day-to-day aspects of keeping our animals healthy—and I loved it. As I got into it, I really enjoyed the leadership aspects of the job, but recognized that there were more skill sets that I could further develop."
Initially, Adkesson chose to enroll in the degree's finance and accounting courses, thinking they would be the toughest, but they turned out to be the courses he enjoyed the most because they were so far outside of his wheelhouse.
"There was a lot of confidence building in the program. I was confident in my skills as a veterinarian and as a leader in my realm. I had been trained to solve problems, but the iMBA helped me apply those frameworks in a different capacity," said Adkesson.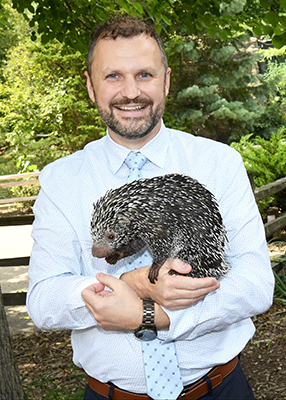 At first, Adkesson didn't think an online program would create the same networking opportunities as an on-campus one – but like many others in the program, he quickly saw the close relationships he could build through the iMBA.

"That was the biggest surprise to me – the connectiveness between the people during the program. I was so pleasantly surprised with the camaraderie between the students," he said. "It rivaled the small, tight network of students that I was part of in veterinary school."
Adkesson's passion for zoology began early and grew quickly when he became part of a youth volunteer program at Scovill Zoo in Decatur, IL, where he grew up.
"It all clicked for me at a very early age. I loved working with animals and loved the idea of a zoo," said Adkesson. "I spent a bit of time exploring human medicine, but quickly landed on the veterinary medicine path and applied to U of I."
Adkesson was already familiar with the campus, making the short trip from Decatur with his family to attend dozens of Illini football and basketball games. He continued to stay connected to Champaign as an adjunct clinical professor at the University's College of Veterinary Medicine, where he has trained hundreds of veterinary students, interns, and residents. He is also an accomplished researcher, who has authored more than 100 peer-reviewed publications.
Adkesson said he is applying what he's learned in the iMBA to Brookfield Zoo's mission to connect people to wildlife and nature and also to prepare for its centennial celebration in 2034. He oversees about 400 full-time staff, which grows to 1,000 with seasonal positions and contracted workforces. He said he is applying the business analytics skills he's learned to assess everything from pricing of temporary attractions to how much time visitors are spending in line.

"We want to make sure we're having a positive impact on the people who come through our gates," he said. "We want them to have fun, and we want them to be engaged and excited because that puts them in such a better position to learn something or to take a positive action to benefit wildlife and nature."