Mar 6, 2023 Business Administration Faculty Research in Education
Breaking Waves: How Gies research could turn the tide in the next global pandemic
In the Spring of 2021, life was finally looking a little more hopeful for a world caught in the long shadow of COVID-19. The first year of the pandemic was officially in the past, and deployment of effective vaccines had begun. For the first time in a long time, it seemed safe to lower our masks and breathe. Then, Delta arrived in India.

More transmissible than previous COVID strains, Delta moved with lightning speed, spreading in waves that arose simultaneously across India and quickly overwhelmed the country's healthcare system. Before long, beds, staff, ventilators and other essentials were all in short supply. And that shortage had a devastating result. On May 25, 2021, the death toll from COVID in India became the highest for any nation in a single day, which naturally led to the question — what could be done to prevent it from happening again?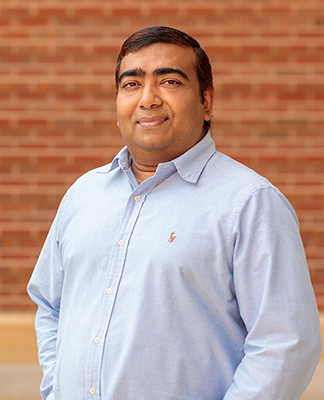 That's what Gies College of Business Associate Professor Ujjal Mukherjee (right) and his co-authors – including Gies professors Sridhar Seshadri and Anton Ivanov, Grainger College of Engineering professor Subhonmesh Bose, and Sebastian Souyris (Rensselaer Polytechnic Institute) – set out to answer in their paper, "Detecting and mitigating simultaneous waves of COVID-19 infections," which was published in the journal Nature – Scientific Reports.
Before Delta, COVID transmissions followed a more diffused pattern, spreading gradually from high population to more rural areas.

"This process takes some time," said Mukherjee, who was part of SHIELD Illinois, an ambitious project created to help the university remain open safely during the pandemic. "And this time allows administrators to control the spread and prepare for eventual hospitalization and mortality risks."

However, that wasn't the situation in India in 2021, where Mukherjee said two important variables came into play.

First, there was the emergence of a new COVID variant that was much more virulent than previous strains. And second, that emergence coincided with a major religious gathering that created a super-spreader event. Within a matter of days, many people attending the annual Kumbh Mela in the Himalayas potentially came in contact with the infection simultaneously. And soon, they travelled home, leading to simultaneous outbreaks across the country and eventually other parts of the world with large Indian populations.

"If you look at a normal disease diffusion process, that's very different than a super-spreader shock, which spreads much faster," said Mukherjee.

That difference makes it much harder to model using standard methodologies. So, Mukherjee and his team set out to create something to better handle the job. When a new variant occurs, says Mukherjee, you have to estimate two things — where can it spread first and what pathways will it take.

Not only does their paper provide a methodology for doing that, but it also provides a number of concrete policy recommendations at various stages of a simultaneous wave, including how to avoid it, how to detect it quickly after a potential super-spreader event occurs, and how to proactively contain its spread.

Their first recommendation is to beef up efforts to identify problematic variants as they arise. Because different countries have varied abilities to test and sequence, Mukherjee and his team suggest that a global initiative be undertaken to quickly detect new variants and mitigate their spread.

Once a simultaneous wave is detected, immediate steps should be taken to control the spread, starting with bulk vaccinations in the impacted region, which can prevent the rise of — and suffering from — a virulent variant. Finally, large public events should either be avoided or managed, and travel restrictions should be implemented to prevent the variant's spread.

The good news is those restrictions don't have to be Draconian. Instead of blanket travel bans, stringent testing and temporary isolation for passengers traveling from infected areas could be enough to mitigate the spread, while avoiding the economic pain of a global lockdown.

While the team's work is important for all countries in the new global age of pandemics, it's especially useful in countries like the one where Delta arose.

"A country like India is relatively resource-constrained compared to the population," said Mukherjee. "So, if you cannot predict, well in advance, the impact of a shock and the presence of a super-spreader shock on the disease propagation, then the implication for human life and healthcare are significant."

Their work could change that, transforming the next big wave into a manageable current.