Feb 21, 2023 Accountancy Alumni Business Administration Faculty Finance Giving Stories Research in Education Student
Gies secures first crypto-funded research gift
Gies College of Business at the University of Illinois has secured its first ever research gift funded by cryptocurrency; it is part of a series of recent investments designed to help Gies faculty and students research important questions and create innovative solutions using blockchain technology. The research will focus on analyzing the data generated by blockchains and in one case, even store big data leveraging blockchain infrastructure.
Protocol Labs, an open-source R&D lab that develops internet protocols, gave the landmark crypto gift – $5K of its Filecoin cryptocurrency to help explore less expensive decentralized data storage using the blockchain at public universities."
There are many ways that cryptocurrencies could be involved in the future of financial transactions," said Robert Brunner (left), Gies' associate dean for innovation and chief disruption officer. "It's critical that industry professionals understand the many nuances of these payment systems, and it's equally important that a leading business school like ours partner with firms to conduct research that is meaningful and applicable to their needs. This gift from Protocol Labs is the first of which I hope are many direct crypto gifts that can make a lasting impact on the industry and on our learners."
This research gift is the latest in a series of blockchain "firsts" for Gies. In March 2022, Gies launched iBlock, considered to be the first blockchain created by a business school. That came on the heels of the College's first crypto donation from an alumnus, a September 2021 gift from alumnus Stanley Choi.
In addition to the research investment from Protocol Labs, four Gies faculty were awarded a $40K grant to focus on research using blockchain data as part of a $1.1 million gift from an anonymous donor. Professors Vishal Sachdev (business analytics), Wencui Han (information systems), Tony Zhang (finance), and Steve Raquel (marketing) will use blockchain data to answer questions about market sentiment, investor behavior, industry adoption, and cryptocurrency valuations.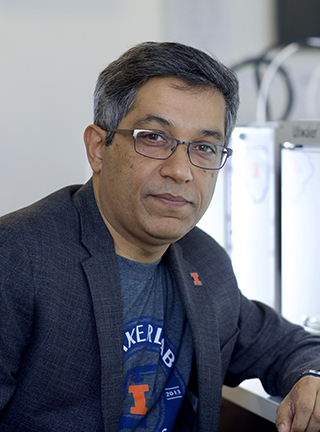 "We are building our reputation as an innovator in this space," said Sachdev (right), who serves as academic director of the College's MS in Business Analytics program, which has provided an ample supply of bright and motivated students who want to dive into this new domain of blockchain analytics. "We are creating a cohesive strategy for approaching blockchain research, teaching, and student skill development. Ultimately, like business analytics, blockchain analytics will be an important part of a Gies education."
Additional blockchain research gifts have come in recently from the Solana Foundation and Fortress Web3 Technologies. Fortress has invested $5K to investigate the disruption caused by blockchain in different industries, and the Solana Foundation gave a $5K research grant to investigate if the US is losing its competitiveness in Web3, emphasizing the need to develop uniform standards for cryptocurrency and blockchain in the U.S.
"Right now, U.S policy is somewhat ambiguous and might be driving blockchain developers, startups, and investments to other countries," Sachdev said, adding that in March 2022, the White House issued an executive order, but Congress has yet to act on legislation that addresses the risks and benefits of digital assets and their underlying technologies. "Our government is primarily outlining what you can't do but not saying what you can do. Right now, Europe is further ahead in establishing policy."
Exploring the impact and applications of blockchain technology on business is wide-ranging and often cross-disciplinary at Gies – and it continues to put Gies at the center of blockchain's continued adoption by businesses.
"I knew what it meant to be a beginner in terms of understanding this technology, and I want to share my lived experience." said Sachdev. "In addition to conducting impactful research in this area, it is also important to get beyond definitions and make sense of the data around blockchain to give learners a hands-on experience they can't get anywhere else."