Sep 16, 2022 Accountancy Alumni Business Administration Faculty Finance Student
Psyonic's bionic arm gains Meta, NASA interest post-iVenture partnership
With patience, determination, and a vision for democratizing healthcare, Psyonic Founder and CEO Aadeel Akhtar has transformed an oversized, cumbersome prototype into the first bionic hand with multi-touch feedback on the market.
"With sensors on your fingertips, you can feel what you're doing, even with delicate objects. Its design answers many of the barriers of traditional prosthetic limbs – with a 200-millisecond closing speed, it's fast, lightweight, and water resistant," said Akhtar. "Users are surprised that it's so easy to use."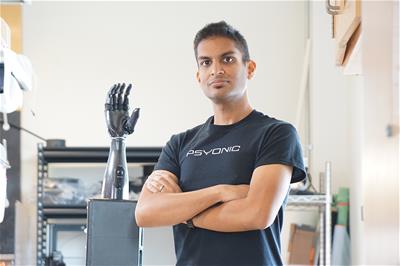 Psyonic's Ability Hand™ has a patented motor control and sensory feedback system that's responsive and intuitive. The sensors can detect pressure when you're gripping an object and send a vibration to your arm to communicate that sensation. Now available nationwide, it's covered by Medicare and has attracted interest from NASA and Meta, which has purchased two of the devices.
Akhtar (right) said he learned how to turn his idea into a viable business through the iVenture Accelerator, a University-wide incubator that's powered by Gies College of Business.
"We needed to make the leap from a school project to a solution we could monetize, and iVenture helped us create a business plan built on market demand. We learned how to raise capital and used that funding to purchase materials, work on branding, and raise our profile beyond academia," said Akhtar, who since working with iVenture has raised about $2.4 million from National Science Foundation grants and $1.3 million from investors. He plans to launch an equity crowdfunding campaign this fall.
"We were able to overcome the biggest challenges of prosthetic devices – that they're super expensive and break a lot," he said. "We recently took the Ability Hand to a picnic for amputees and their families, and the kids were using it to break a pinata. We've come a long way from the 3D-printed prototypes that would break after a few days of use."
Akhtar first imagined helping amputees when, at seven years old, he visited Pakistan with his parents. He met a girl his age living in poverty who was missing her right leg and using a tree branch as a crutch. As he grew, Akhtar came to understand the vast differences in access to healthcare around the world and in the US.
Akhtar earned his undergraduate degree in biology and a master's degree in computer science at Loyola University in Chicago and became an adjunct lecturer there in 2008. He initially came to the University of Illinois Urbana-Champaign in 2010 to pursue a joint MD/PhD program. He earned a master's degree in electrical and computer engineering and a PhD in neuroscience, writing his dissertation on the mechanisms for enabling closed-loop upper limb sensorimotor prosthetic control. He left medical school to focus on Psyonic full-time.
While a PhD candidate, Akhtar began working with Range of Motion Project in Ecuador. Its mission is to provide prosthetics to those who cannot afford them in developing countries. While there in 2014 with an early prototype of the Ability Hand he met a soldier who changed the trajectory of his career.
"He had lost his left hand to machine gun fire from a helicopter and now for the first time in 35 years he could pinch his fingers. And that's when I knew I couldn't go the traditional MD route and work at an academic hospital when we had the opportunity to commercialize this technology," said Akhtar.
A year later, at the 2015 Cozad New Venture Challenge, Psyonic won first place for a university-funded startup and won the Samsung Research Innovation Prize. Since formally launching the business in 2016, Akhtar has won the Illinois Innovation Prize, was named one of MIT Technology Review's Top 35 Innovators Under 35, and the Ability Hand was named mHUB Product of the Year in 2020. Newsweek also named Akhtar as one of the Top 50 Innovators in America last year.
This summer, Akhtar moved Psyonic's headquarters to San Diego to partner with the Naval Medical Center on advancing the biointegration of muscles, bones, and nerves. He hopes to create an Ability Leg that can complete a triathlon.
"What began as a small group of University of Illinois students has grown to include engineers, public health experts, social workers, and designers – along with an incredible group of doctors, clinicians, and non-profits working in the developing world," said Akhtar.
"I am incredibly grateful for the opportunity to do something that I wanted to do my entire life. Joy also comes from knowing that we're improving the quality of people's lives so they can do all their activities of daily living. The lows are low, and the highs are high, but if you have the grit to make it through that roller coaster, the payoff is just incredible," he said.