May 31, 2022 Alumni Business Administration
Right time, right fit: Salvani uses iMSM to advance philanthropy career
As Assistant Dean for Advancement in the College of Fine and Applied Arts, Jon Salvani is a professional fundraiser. He manages and leads a team of advancement professionals who work with donors to support programs, students, faculty, and staff at the University of Illinois, primarily in the College of Fine and Applied Arts. In many ways, Salvani's position is quite cemented in the business world.
"There are so many aspects of advancement and fundraising," he explained. "It's not just fundraising; it's almost similar to sales except that we're not selling a tangible product, but more so selling an experience. I tell people that it's a very 'business' position, just at a university."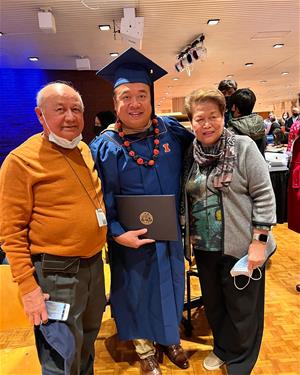 The "experience" Salvani describes is forming and building relationships with alumni, ensuring that they feel connected to the University, and that they're able to witness the impact of their gifts. He is a proud representative of the University of Illinois; but one thing was missing: he wasn't an alum. Wanting to deepen his connection to the UIUC community was high on his list of priorities, almost as high as his long time wish to earn his master's degree. So he decided to combine the two, earning his Master of Science in Management (MSM) online from Gies College of Business in December 2021 through the iMSM program.
"Getting my MSM was a bucket list item and personal fulfillment for me!" he explained. "I had been working on and off toward a master's degree for over 10 years, starting and stopping because of a job change or a project development. When I came to my position here at the University of Illinois, everything kept leading me to business—that's my background, my repertoire, my skillset. I also wanted a degree from Illinois; I wanted to be an alum!
Launched in 2020, the 32-credit-hour iMSM helps learners from all backgrounds develop pivotal management skills that open new career pathways – or accelerate current trajectories. In as little as 12 months in the fully online program, graduates learn to speak the language of business, think critically about management and ethical issues, and develop skills in leadership, innovation, and teamwork.
"From marketing and communications to relationship building to project and personnel management, all of those aspects of advancement were being taught in the iMSM program," Salvani said. "It was really helpful, not just because it affirmed some of the skills I already attained through my work experience, but it also taught me some new things. Things I never learned when I got my undergraduate degree or that I never used in the workplace before. I know I'll be able to take what I learned and apply it to my current job and to where I see myself advancing in the higher ed advancement industry. The iMSM program really fit where I was in my career."
As a member of the Fall 2020 cohort, Salvani started the iMSM program in the midst of the COVID-19 pandemic. The online-only format of the program, in addition to the flexibility and accessibility it offers, became especially attractive to Salvani who was now working from home. By offering multiple live sessions a day as well as recorded classes, the iMSM program is built to fit around student's lives, with many earning their degree in just 12 months.
"The flexibility of the program is amazing," Salvani said. "It has the same sense of rigidness, accountability, and attention to detail that you would see in an in-person master's program; the only difference is that you're not in person for any of it!"
"There's absolutely no doubt that Gies has revolutionized the way we deliver content and degrees online. The flexibility of knowing you can go at your own pace and attend live sessions whenever they work for you at the convenience of doing it wherever you happen to be located, along with incredible support and encouragement from my family, is what got me successfully through this program. When you're able to do all that and still walk away with a powerful degree, what more could you really ask for?"