Apr 15, 2022 Business Administration Finance Student
Makkapati's passion for fashion fuels growing business
Gies Business sophomore Anish Makkapati has always had a passion for fashion matched with an interest in business, leading the Bay Area-native to start his very own clothing and multimedia company at the age of 17. Standing for the values of community, authenticity, and originality, By All Means (@byallmeansba) is meant to combine fashion with performance to connect people through their different outlets of expression—whether that's through their outfit of the day or the artists they listen to.
The company is very much inspired by the fashion scenes centered around the modern hip-hop and sports industries, tailoring its look and content toward rappers and athletes. The company name, By All Means, was inspired by an interview with one of Makkapati's favorite artists. 21 Savage explained that a section of his song "No Heart" was driven by the idea of "I gotta get that money, man. By all means." Struck by the how the phrase perfectly encapsulated the passion and drive he felt, Makkapati – still in high school at the time – decided to try to realize this almost side-hobby of his into an actual company.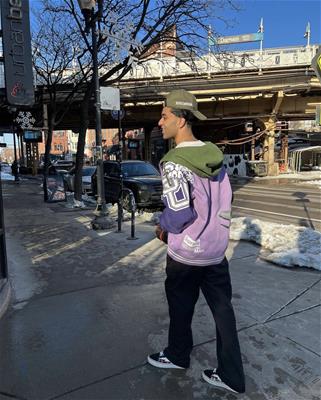 "It's been nearly three years to the day since I started the company," Makkapati reflected. "When it first started, I was essentially just making and selling clothes for my friends with the designs I had wanted, selling hoodies out the trunk of my car after school. When that became successful, I started thinking, 'Okay, let's move it past the high school, past the city, past the state, past the country!' Now it's really about trying to expand as much as possible and make the whole world aware of what By All Means is."
Makkapati had the dream for what he wanted the company to become, but there was one problem: While he had passion in droves, he lacked the know-how for what to do next. Recognizing that the business side of the company eluded him, he made the bold decision to leave the Bay Area and his make his way to central Illinois – just for Gies College of Business.
"I came to Gies because I had a business and I needed to learn how to grow it," he explained, "Being from the Bay Area, the company has its roots there, it always will, and it was doing quite well there, but I wanted to bring it somewhere new – the Chicago area also has a similar but unique fashion scene compared to California. But, more importantly, Gies is one of the best business schools out there and there were certain aspects of running the company that I knew I needed to learn how to improve. Accounting, marketing, entrepreneurship, and finance skills were the gaps I needed to fill. I've learned so much by coming to Gies, and I know I made a great decision by doing that."
Now toward the end of his sophomore year at Gies, Makkapati spends his time juggling his studies as a finance and information systems major with his work as an entrepreneur. "I don't always get a lot of sleep," he joked, "but I'm doing this because I enjoy it and I have the passion for it. I want to do it."
The close of the Spring 2022 semester also marks a major achievement for Makkapati and By All Means, as the company will be hosting its very first concert in collaboration with rapper Lil Keed.
"I wanted to create something that people could feel a part of, give them a sense of community," he explained. "I've always felt that the best way to do that was to one day hold an event, like a concert, where all the people could come there not only for the artist, but also for By All Means. We could then offer products at the concert that represent the connection between the performer and the brand – It would be a true, authentic collaboration between clothing and artistry."
"Please join us on April 21 for our first ever concert with Lil Keed live at the Canopy Club. Doors open at 9 PM, we will be dropping our first live concert collection. Tickets available now at canopyclub.com."