Apr 13, 2022 Accountancy Business Administration Finance Student
Mississippi Project teaches students intersection of culture, business, and community
The role business plays in building community was the centerpiece of a spring break experiential learning trip to the deep South sponsored by Gies College of Business.
"The Mississippi Project was a great way to learn how to design a business that serves the broader community and is still self-sustainable," said Gies first-year student Liam Lin. "I underestimated the true significance of a singular business and the responsibility it could take on."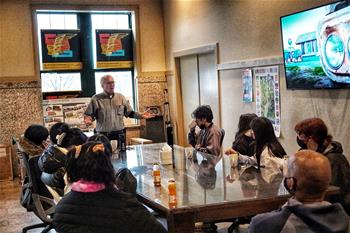 Ten first- and second-year Gies students travelled to Clarksdale, MS -- considered the Home of the Blues -- to learn about different business models from local entrepreneurs and community activists. The trip included visits to area businesses and daily fireside chats focusing on different business models and community activism. At week's end, students presented their business ideas for the Clarksdale area.
"I had never experienced such friendliness and hospitality from strangers before that wasn't from family," said Lin, who added the week also included historical and "new world" tours as well as a visit to local blues club to better understand the town's musical heritage.
These activities became the basis for hands-on exercises that apply design thinking to real-world challenges. Design thinking is a human-centered approach that operates at the intersection of desirability, viability, and feasibility.
"I've always thought that business should have some degree of social responsibility, but to see that in action and see how a business' central focus is the community was impactful. I think human-centered design can be and should be implemented in nearly all business models," said first-year student David Hong.
The week culminated with the students presenting recommendations about how to help Clarksdale improve its tourism industry and economic development.
"I hope that our recommendations give ideas to Clarksdale on how to revitalize the community and encourage them to make a change," said first-year student Richa Parikh. "The people of Clarksdale all have the same end goal of making the town a better place to live, but they all have different ways of doing that. They don't let their contrasting opinions get in the way of collaborating with each other to achieve their common goal."
Added Fiyin Adekoya, a first-year Gies student who participated in the trip, "I realized a group of people living in a place does not make them a community. Rather a community entails the relationship and interactions between each and every group and member of the community."
The project's co-creators are Associate Dean of Undergraduate Affairs Kevin Jackson and Alex See, director of operations for undergraduate affairs at Gies. Designing the Mississippi Project focused on offering students an opportunity to experience different perspectives while developing business ideas that honor the whole community. Given the Clarksdale community's reaction to the student presentations, plans are underway to design a follow-up experience that builds on their initial work.
"It's important for our students to learn how business can be a noble profession and appreciate how the skills they develop to enhance their own livelihoods can also be used to impact the lives of others," said Jackson. "I'm proud of the way our students answered the challenge to develop business proposals, but I'm most gratified by their empathy and humility in working with members of the Clarksdale community, and how they built their own community amongst themselves."
"This trip has made me reconsider how I want to use my business skills," said Lin. "What would be the effect of my actions if I worked for a large corporation versus a non-profit? The Mississippi Project made me realize the potential of individual actions."
For sophomore Dhanai Haderaj, the Mississippi Project has made her think about the role of business differently.
"Business can do more for people than just profit. It made me realize that business can be an amazing bridge between people from diverse backgrounds who have been separated for a long time."