Apr 1, 2022 Business Administration Student
Gies iMBA helps medical students develop seizure-monitoring baseball cap
When Jay Liu heard about the Carle Illinois College of Medicine Capstone program, he was immediately intrigued. The program invites MBA students at Gies College of Business to join the next generation of medical innovators in a year-long project to develop medical innovations that meet real-world needs. And it was exactly the sort of opportunity he was looking for when he began the fully online iMBA program from his home in San Francisco, California. The only problem was that he didn't meet the requirements.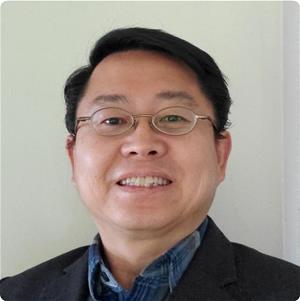 Technically, only students who have completed 30 credit hours are invited to participate, and he hadn't quite reached that mark. But he was taking courses on how to manage innovation, and eager to put his new skills to work. So, he did what any aspiring entrepreneur would do; he took a gamble and applied.
"I basically said I'm ready for this, and I'm capable of this," said Liu, who is a software development manager in his regular line of work. The capstone committee agreed, and soon Liu was paired with two medical students developing the prototype for a new tool that could revolutionize the way epileptic seizures are captured and analyzed.
Currently, the only way to see what's going on in those with epilepsy is to bring them to the hospital. It's a costly and cumbersome process that requires patients to be attached to machines for up to a week in an effort to capture seizures when they occur. The new device developed by Carle Illinois medical students Kenny Leung and Jennifer Cortes would dramatically simplify the process, reducing most of the hardware to instruments that could be placed into a stylish baseball cap. In addition to being lightweight and relatively inexpensive, the device, called Epicap, would free patients to go about their normal lives. It includes a small video camera built into the visor, which records their visual expressions, and other equipment tucked into the cap designed to capture brainwave data. Future plans include an artificial intelligence component that would help analyze those brainwaves, pinpointing abnormal activity, and sending data to the cloud where it can be analyzed by specialists.
Liu's task was to bring his business expertise to the project, helping the medical students explore all the issues related with bringing new technology to the market. "For me, this is really exciting, because it forces me to think outside of my comfort zone," said Liu, who has previously been far more comfortable behind a computer screen than on the cutting edge.
"I'm really looking at this thing from the business side," he said. "Does the business make sense? How do we deliver the value? And how does that value matter to our customer?" Part of the value he sees in the new technology is its ability to not only to make life easier for patients, but also to decentralize testing, which could reduce the stress on hospital resources in situations like the current pandemic.
"I see this as just a tiny step forward in building the next generation of a healthcare system that's internet-based, mobile-based and artificial intelligence-based, where people also feel like their personal data is really treated with respect."
Multidisciplinary efforts like this one, said Liu, are one way to make that happen. "It doesn't matter if it's Carle Illinois or the engineering school, or the business school. It's about how we all come together to deliver better solutions."
While the Epicap could go through many changes before it reaches the market, the journey to take it there has already changed him, said Liu. "The training I got from the MBA program is now really part of me — how I look at things, how I approach a challenge, and how I present the problem to be solved. It's been quite an enlightening experience for me, and I've really enjoyed it."