Jan 27, 2022 Accountancy Alumni Business Administration Faculty Finance Student
Gies ranked #5 public business school by Poets&Quants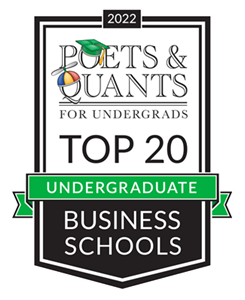 *An earlier version of this story listed Gies ranked #6 among public undergraduate business programs and #13 overall. Poets&Quants has since made a change to their rankings, listing Gies as the #5 public program and #12 overall.

Gies College of Business is once again ranked as a Top 10 public undergraduate business program in the nation, according to the latest rankings released by Poets&Quants, the preeminent source for information on undergraduate and graduate business education. Gies Business was ranked #5 among public business schools and rose five spots to #12 overall. For this ranking, Poets&Quants considers factors such as admissions standards, the college experience, and career outcomes.
Gies is intentional about providing opportunities and experiences that allow students to explore why they are getting a business education and how they can use it to bring value to society. In 2021, the College launched the largest experiential learning course in the nation – Business 301: Business in Action – to further its commitment to learning by doing. Gies officially launched the Disruption Lab to drive innovation for students, faculty, and corporate partners, and the College also continued its push to go global by receiving a federal grant to secure locations for its new Sophomore Year of Purpose program. To cap it all off, Dean Jeffrey R. Brown was named the Dean of the Year by Poets&Quants in December.