Dec 7, 2021 Accountancy Alumni Business Administration Faculty Finance Student
Jeffrey R. Brown named Dean of the Year by Poets&Quants
Gies College of Business Dean Jeffrey R. Brown has been named the 2021 Dean of the Year by Poets&Quants, the preeminent source for information on undergraduate and graduate business education. Dean Brown is the 11th dean to be honored by Poets&Quants with previous winners coming from Harvard, Yale, Northwestern, IE Business School in Spain, and others. For more than a decade, the publication has been one of the world's most influential voices on insights and trends in business education.

"There's no shortage of deans who have grand visions, but there is a rare dean who makes that vision become a reality. That's exactly what Dean Brown is doing at Gies," said Poets&Quants Editor-in-Chief John Byrne. "He's reimagining what the future of business education can be, and he's delivering on it."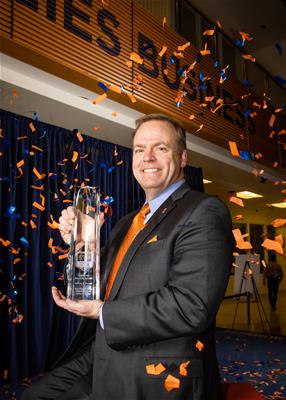 Poets&Quants recognized Dean Brown for his courageous decision to suspend Gies' full-time residential MBA program and direct its resources into the College's rapidly growing online MBA (iMBA); securing a $150 million naming gift from alumnus Larry Gies and his wife Beth; and dramatically increasing the number of faculty at the College and the amount of scholarships awarded to students.
"I'm honored to receive this award, especially during such an exciting, yet challenging time for business higher education," said Brown, Josef and Margot Lakonishok Professor of Business and Dean. "It's gratifying to be recognized in this way, but this honor really belongs to all the dedicated faculty, staff, students, and alumni who make Gies College of Business such an amazing place. We are building the most innovative business school on the planet and delivering life-changing access to business education. It's a team effort, and the environment we have here is special."
Under Dean Brown's leadership, the fully online MBA – known as the iMBA – has grown from 114 students in its first cohort to more than 4,200 students today. With a mission to break down barriers to higher education, the iMBA is priced at a market-shattering all-in cost of approximately $22,000. Students from 48 states and more than 100 countries have taken advantage of the iMBA's highly interactive digital classrooms and global network of peers and alumni. An astonishing 94% of students would highly recommend the program to a peer, friend, or colleague, and 54% of students receive a promotion, job offer, or accept a new position during their time in the program. Because of that success, the iMBA was named the #1 Biggest B-School Innovation of the Decade by Poets&Quants.
"I would describe Dean Brown as a catalyst for change," said Andreas Cangellaris, provost of the University of Illinois Urbana-Champaign. "He has been a transformational dean and a transformational leader, not only for Gies College of Business, but also for the entire campus in the way we position ourselves to serve the citizens of Illinois, the nation, and beyond."
Perennially ranked among the top 10 undergraduate public business schools in the nation, the College got its "Gies" name in 2017 thanks to a $150 million naming gift from alumnus Larry Gies and wife Beth. Under Brown's stewardship, the Gies' gift has given the College the ability to substantially increase its investment in scholarships for undergraduate students, making substantial progress toward the goal that all high-achieving students can attend Gies College of Business regardless of their financial circumstances. The gift also allowed the College to invest in faculty who are conducting leading-edge research in both traditional and trending fields of business. They continue to design an innovative curriculum and prioritize action learning that will shape how these future business leaders solve complex problems.
When the COVID-19 pandemic hit, Dean Brown fearlessly led a response during this unprecedented time. When many colleges and universities around the world were scrambling to shift online, Gies was ahead of the game. The investments Dean Brown had made in online infrastructure meant Gies could shift online seamlessly, allowing the College to press forward, full steam ahead, with powerful, creative, and highly engaging delivery.
Brown has served as dean at Gies Business since 2015. He also serves as a professor of finance and was the founding director of the Center for Business and Public Policy. Brown is a Research Associate at the National Bureau of Economic Research (NBER) in Cambridge, MA; a trustee and chair of the Investment Committee for TIAA; a member of the Governing Board of the Center for Audit Quality (CAQ); chair of the Board of Managers of Illinois Global Gateway, LLC; and a member of the board of managers for the University of Illinois Research Park. Previously, he has served as a senior economist with the White House Council of Economic Advisers. He earned his PhD in economics from MIT, his MPP from Harvard, and his BA from Miami University (Ohio).