Jul 23, 2021 2021-07 Alumni Business Administration
How brand purpose helped navigate Feeding America through pandemic
Gies College of Business alumna Catherine Davis (BADM '82) had been with Feeding America for about three years when the COVID-19 pandemic hit. She says it created the perfect storm – testing the non-profit in every way.
"Demand shot up over 50%. We had to make sure our volunteers could work safely. We all saw how fragile the supply chain was," Davis recalled about her tenure as chief marketing and communications officer for the nation's largest hunger-relief organization with 200 food banks and 60,000 partner agencies.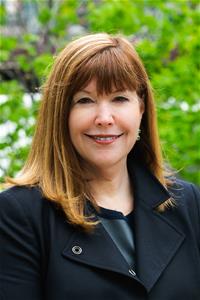 Davis recently resigned from Feeding America, saying she had accomplished what she set out to do, raising awareness of hunger and Feeding America and also increasing donations. Last year, they provided 6 billion meals to more than 42 million people, including 13 million children. Now she is taking what she calls a "rare opportunity to take a pause" before deciding on her next challenge.
"During the pandemic, Americans became aware of hunger in a completely different way – the sudden job loss of so many meant they saw it in their own neighborhood. It created an opportunity to educate people about hunger at a time when they were ready to act," she said.
Davis explained this is a much different mindset than the one she discovered when she joined the non-profit in November 2016. She conducted a qualitative research study to understand why it was so easy to ignore hunger in the US. Results showed people tended to blame the people who were hungry.
"We set out to change that view by creating an emotional connection to those in need and by bringing more clarity to the issue," said Davis, who led Feeding America's branding effort, which is grounded in hard facts – like how 78% of Americans live paycheck to paycheck.
Davis also helped transform Feeding America's fundraising efforts into a digitally driven powerhouse.
"We brought in specialists to build a strong online infrastructure so that when COVID-19 hit we were ready. Giving increased exponentially in 2020, with 60% coming from online engagement," she said.
Feeding America's well-defined brand purpose was on full display during the pandemic. Media companies created telethons and used programming such as Good Morning America to educate the public about how they could contribute. They also donated $100 million in advertising time for public service announcements, including this one with gripping lyrics from the song "I Got You" by Ciara, who donated the music rights. Retailers and CPG companies, who already had a strong relationship with Feeding America, went into overdrive to help.
Purpose-driven work has always been part of Davis' makeup. She describes herself in her Twitter bio as someone who's "trying to make the world a little bit better." She's been on the boards of Make-A-Wish America, the Alvin Ailey American Dance Theater, and the Committee on Sustainability with the World Economic Forum. She's now a board member of She Runs It, a national non-profit that seeks to empower women in the advertising, media, and marketing industries.
Davis was working for Morgan Stanley in the World Trade Center on Sept. 11, 2001 and ran down 64 flights of stairs to safety.
"One of the things that I thought a lot about afterwards was how it was so random. If you were above the 72nd floor when the plane hit, you could not get out of the building," said Davis. "I was very lucky to be below. And so you do start to really think about why I was lucky and ask yourself, 'What am I going to do to give back?'"
Davis worked at Morgan Stanley for five years, ultimately as SVP, Director of Global Advertising & Brand Management. In 2005, when given the choice between an opportunity at GE or to become CMO of an online brokerage, Harris Direct, BMO, she chose the latter.
"The career choices I've made have always been because I wanted to learn more. I knew online was going to be important long-term, so it seemed like the right time to do it," said Davis, who has worked across many categories, including consumer packaged goods, financial services, non-profit, fashion, and ecommerce. "I'm really driven by curiosity and innovation and when you bring what you've learned from different categories that helps you do your job better."
For much of her career, Davis has focused on creating larger digital footprints and innovating new business models. She headed marketing services for Diageo and was a digital marketing consultant before launching and leading Vizeum US, an integrated communications planning and media buying agency that's part of the Dentsu Aegis Network. In 2015, Davis returned to Chicago and Leo Burnett, where she started her career, to lead the McDonald's and Esurance businesses. Her team helped launch the fast food chain's highly successful all-day breakfast.
Davis says her approach to business can be attributed to what she learned about economics at the University of Illinois from Professor Ruth Birdzell.
"She was one of the few female professors at the time and was such a role model. She was so, so smart and insightful and inspiring. She really helped me understand how the world works," she said.
Now Davis inspires others with her views. Her Advertising Age opinion piece, published as the second wave of the pandemic was building, deftly outlines how to successfully navigate a company during a crisis. Her advice includes creating a relevant, user-friendly narrative and never underestimating the importance of brand purpose.
"So many brands try to be everything to everybody, and they try not to take a point of view," she said. "In the current environment where things are changing so dramatically, that's a way to not get noticed and not to drive business."