May 13, 2021 2021-05 Business Administration Student
Two IBC students land Cozad AWARE Award with "Glide"
On paper, they're from different worlds. He has a degree in political science. She has a bachelor's in integrative biology. But Kendall Brooks and Ciara Johnson had one thing in common — a passion for business that led them to join Illinois Business Consulting at Gies College of Business. And now they also share a fledgling startup that's already earning awards.
In October, the two entrepreneurs won the AWARE (Accelerating Women and Underrepresented Entrepreneurs) Prize from the University of Illinois Research Park. The honor was for their invention, Glide — an innovative wearable device that gives runners, hikers, and other outdoor enthusiasts a reliable way to contact emergency help when their primary devices fail. Basically, it's an "OnStar" button for humans.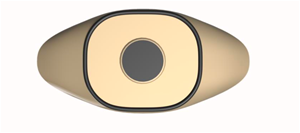 "Glide is an adhesive device that attaches to your skin, and it's kind of like a panic button," said Johnson, who developed the idea while trying to stay busy during the COVID lockdown. With malls and theaters closed, she became an avid runner, hitting the trails around Chicago where she experienced several mishaps. First there was a sprained ankle, then the time her phone and watch died during a run, and finally an unnerving moment when a stranger followed her to her car. While she survived it all without incident, she decided there had to be a better way for people to contact emergency help when their go-to devices failed. And with that epiphany, Glide was born.
Johnson brought the idea to Brooks, who was using his COVID lockdown to pursue a Master of Science in Management (MSM) at Gies. Brooks' interest in graduate school was driven largely by his experience with Illinois Business Consulting (IBC), the largest professionally managed, student-run consulting organization in the United States. IBC is an innovative Gies program that helps students gain crucial, real-world business experience, and for both Brooks and Johnson, it played a pivotal role in their careers.
Brooks' experience with IBC led him to enroll in Gies' MSM program. The nine-month STEM-designated graduate program provides incredible flexibility and comprehensive practical training. Students like Brooks gain fundamental business skills and can specialize in areas like data analytics, marketing, global business, and finance. For Brooks, the MSM was a great fit, right from the start.
"It's a degree built for students just like me, who come from non-traditional business backgrounds and want to get that edge," explained Brooks. Now I can say I have the political science side that educates me on governmental affairs, but I also have the business side of Gies that's teaching me how to use that knowledge to create great solutions for my clients."
Glide provided an opportunity to bring all of that to the table. "This project was the first time I've ever actually worked on something that was really passion-based," said Brooks, who acts as Glide's project manager and helped expand the vision for the product.
"It's not limited just to outdoor activities," said Brooks. "It could be great for first responders who are going off the grid and need to send an alert to their team or for children not old enough to have phones."
Johnson had been searching for a way to participate in the Cozad New Venture Challenge, which encourages entrepreneurial innovation at Illinois, and the two decided this was their way in. It turned out to be the right call, as they earned semi-finalist status and eventually won the AWARE Prize. That award comes with a $1,500 cash price, which gave them the funds to prototype their device.
They already have a 3D model, and Johnson is making solid progress on the stickiest issue — finding the right adhesive. The goal is to find something that can remain on the skin for an extended period of time, yet allow the device, which uses GPS and cellular technology, to be removed for charging. "The vendor I'm working with right now has an adhesive technology that can last up to 14 days," she said. "On top of that, it's waterproof, rainproof, and sweatproof."
If all goes well, Johnson says they should have a functional prototype soon. But for now, they may need to focus on their day jobs. In addition to partnering on Glide, Brooks and Johnson have both landed jobs in Washington D.C., working as federal consultants for IBM. Eventually, Johnson says she could see herself returning to Illinois to pursue a graduate degree.
"A lot of who I am today professionally, I have to give it up to IBC," said Johnson, who was inspired by the Gies faculty she met through the program. "Because of that, Gies is definitely in the running."