Apr 19, 2021 2021-04 Business Administration
Abbott's Halloran discusses impact of COVID-19 diagnostics on healthcare
On April 6, Damian Halloran, vice president of infectious disease, emerging markets for Abbott, spoke to over 160 participants in the virtual Spring 2021 Hallene Lecture. Halloran spoke on the topic of "COVID-19 & Beyond: The Future of Diagnostics in Building Sustainable Healthcare."
In his talk, he took the audience on a virtual trip around the world, highlighting the challenges and opportunities that the COVID pandemic have presented to Abbott and society in general, and then discussed the longer-term implications for diagnostic technology in a post-pandemic world. Through powerful storytelling, he shared how Abbott products and initiatives impact people's lives and health.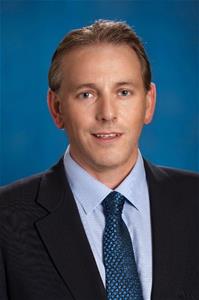 According to Halloran, the pandemic has driven an unprecedented level of activity within Abbott. Since the beginning, the company has launched 12 COVID tests (now 14 as of this story's publish date), shipped 400 million tests to 160 countries, and started up three new manufacturing sites to ramp up production. In addition, the company hired thousands of employees and developed new diagnostic tests in six months instead of a typical three-year process. As Halloran explained, responding to the pandemic has taught Abbott a lot about speed, risk-taking, aspirational thinking, and tracking results closely day by day.
"One of the most important parts of our journey is understanding Abbott's role in the pandemic," said Halloran. "How do we help society get back to normal safely and, most importantly, with peace of mind?"
And COVID testing may be here to stay. "We believe that COVID testing will be part of our lives for a long time to come," said Halloran. "So, the second part of journey is determining how do we increase access? How do we take testing out of the lab and get it to more people in more places?"
The pandemic has led to the development of tests that can be used in locations such as airports, schools, workplaces, and homes. Having regular, convenient, affordable testing available could have a positive impact on our nation's ability to reopen schools and workplaces – and to get the economy moving again.
The future for diagnostics looks exciting. Halloran stated that point-of-care testing will have increasing impact on and importance for healthcare throughout the world. Abbott is also integrating testing into digital technology to drive better health outcomes globally. "The vision is to empower people to live healthier lives and take control of their health," Halloran said. Connected health – like the devices for counting steps or calories or for doing self-checks for diabetes – will continue to expand. And big data and artificial intelligence will be utilized to anticipate future disease and to predict risk for communities. They'll be able to turn data into knowledge.
Halloran illustrated how Abbott is using its knowledge and experience to improve antenatal care in rural Rwanda and to eliminate malaria in Uganda. Both initiatives have required partnership between Abbott as the diagnostic technology developer and the national government.
Halloran said that Abbott's diversified and balanced business model has served it well during the pandemic. He explained that Abbott focuses on four pillars of its business: nutrition, medical devices, medicine, and diagnostics. Each of those have – in different ways – demonstrated that the company can shift to respond to a rapidly changing external environment while still supporting the bottom line.
Abbott was recently named among the top 50 most admired companies within the Fortune 500, something for which Halloran said the company is very proud. Halloran stated that Abbott values
innovation in its products, sustainability, customer engagement, employee development, and outreach to colleges and universities to attract new talent. Commitment to these values has put Abbott among these top companies.
In the question period following his talk, Halloran said that if there were any bottlenecks in the diagnostic development process, it was in the alignment of policymakers, guidelines, and procedures. "Every country is different," he said. "When we launched our first test, every country wanted to do their own evaluation. That slowed down the access. We're trying to drive global harmonization standards."
In closing, Halloran restated the importance of keeping others in mind: "I'd like to say to all of you out there – as you aspire to what you do in your careers – do what you love, love what you do. Make an impact. And look to leave a legacy. It's truly all about our people."
About Damian Halloran
Damian Halloran is vice president of infectious disease, emerging markets for Abbott's rapid diagnostics business. He has responsibility from concept to commercialization of diagnostic products and solutions that fit the needs of every care setting. He is a current member of the U.S. President's Advisory Committee on Doing Business in Africa, and he is passionate about building organizations that think aspirationally and deliver results.
Halloran started his career in Ireland as a graduate engineer and has held leadership roles in all of Abbott's major businesses, including diagnostics, supply chain, pharmaceutical operations, vascular operations, and nutrition manufacturing. He earned his bachelor's degree in manufacturing technology/engineering from University College in Galway, Ireland, and completed the Manufacturing Executive Program at the University of Michigan.
About the Hallene Lecture Series
The Hallene Lecture Series honors the memory of Alan M. Hallene ('51), former president of Montgomery Elevator Company in Moline, Illinois. He served as president of both the Alumni Association and the U of I Foundation Board of Directors. He was the recipient of two of the University's highest honors: the Alumni Association Achievement Award and the U of I Foundation's President Award.