Nov 30, 2020 2020-11 Business Administration Faculty Research in Education
Shah named CAS Associate for 2021-2022
Gies College of Business professor Sonali Shah has been named an 2021-2022 Associate for the Center for Advanced Study (CAS) at the University of Illinois at Urbana-Champaign, pending board of trustees approval. Shah, associate professor of business administration and Robert and Karen May Faculty Fellow, is being recognized for her exceptional scholarly achievement.
Each year, University of Illinois faculty are invited to submit scholarly or creative proposals for consideration by the Center's permanent professors. Faculty members with winning proposals are appointed Associates and Fellows and are awarded one semester of release time to pursue their projects in the coming academic year. Professors, Associates, and Fellows are invited to participate in CAS events and have opportunities to present their work to the CAS community.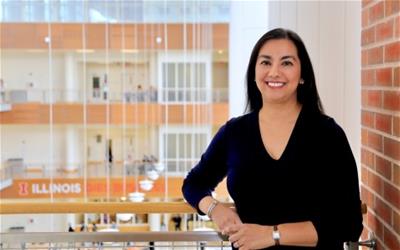 "The CAS Associate fellowship affords me the time to uncover the factors that reduce post-harvest loss and thereby benefit smallholder farmers in sub-Saharan Africa and their communities by reducing hunger and poverty," said Shah.
As a CAS Associate, Shah will conduct research about innovation and technology adoption. She will look at how aid agencies can create scalable, self-sustaining, system-wide interventions to improve social welfare and incomes. She will also work to uncover the factors that lead some individuals, and not others, to continue using and promoting the underlying technologies over time such that the systems continue to function. Her research is based on field data collected from smallholder farmers in Kenya & Tanzania. Over time, she intends to investigate if and how similar interventions can be used to solve critical problems in a variety of contexts.
"The Department is thrilled Professor Shah has received this honor, in recognition of the important research she is conducting on how technology adoption in farming can help reduce food loss in the global supply chain," said Cele Otnes, head of the Department of Business Administration. "This interdisciplinary work strategically aligns with other initiatives on campus that explore critical issues related to food security and technology and innovation management."
Established in 1959, the Center for Advanced Study is charged with promoting the highest levels of scholarship and discourse. Today CAS supports the extraordinary resources at the University of Illinois by encouraging and promoting exemplary scholarship in all areas of knowledge.