May 8, 2020 2020-05 Accountancy Alumni Business Administration Faculty Finance Student
Gies Business launches online master's in management program
The University of Illinois' Gies College of Business is expanding its commitment to delivering life-changing access to business education by launching a new online option for the Master of Science in Management degree (iMSM), pending board of trustees approval. Students can apply starting June 1 for this flexible one-year program, which will welcome its first cohort in October 2020 at a cost of $10,872. Students who apply by the July 15 priority 1 deadline will be eligible for an early start in August.
"This fully online program is perfect for students who are early in their careers and would like to build a foundation of fundamental business skills," said Jeffrey R. Brown, Josef and Margot Lakonishok Professor of Business and Dean of Gies College of Business. "At a time when many other business schools are cutting back, we believe it's more important than ever to push forward with new programs that are built on quality, flexibility, and affordability. Now is a critical time for young professionals to invest in themselves, and the iMSM will prepare them to become leaders across a wide variety of industries."
The new iMSM, which is offered in partnership with Coursera and open to students from any educational or industry background, continues the Gies Business tradition of building highly engaging, flexible online programs. Instead of simply moving an existing residential program online, Gies is intentionally innovating – tailoring its curriculum, delivery, and engagement in a way that's most impactful for students in the online space. That's a big reason why Gies Business has quickly become a world leader in online education. The hallmarks of Gies' online programs – including its popular iMBA – are highly engaging online classrooms and skilled, experienced faculty who deliver leading-edge course material.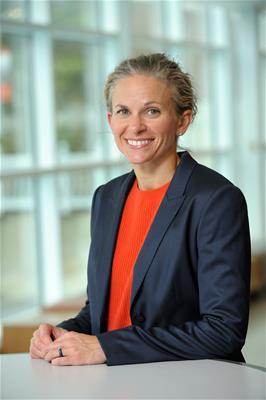 "We see large numbers of students who want to add business to their skill set, but can't quit their jobs to do it," said Associate Dean Brooke Elliott (right), who oversees the strategy for Gies' online programs. "This program will be a great opportunity for professionals to invest in themselves, while still working full-time. Whether you're looking to switch careers, move up in your current career, or perhaps prepare for an MBA, the iMSM can provide a great deal of value for learners all around the world."
In addition to foundational courses in accounting and finance, iMSM students will take a series of fundamental management classes, including leadership and teams, marketing management, strategic management, and process management. Students will also have the opportunity to customize their degree by taking elective courses focused on global business challenges as well as data-driven decision making and communications.
"Now more than ever, learners are looking for ways to develop job-relevant skills in an engaging online environment," said Betty Vandenbosch, Coursera's Chief Content Officer. "Gies College of Business is at the forefront of delivering high-quality online education, and they pioneered the degree experience on Coursera. We're honored to launch a new business degree with them to help learners advance their careers with skills they can use now and into the future."
"We are proud to continue this great partnership with Coursera. We've seen tremendous success in our iMBA and iMSA programs, and we are looking forward to continuing this collaboration in the iMSM," said Brown. "This is a career-focused curriculum designed to serve a diverse array of students from all different backgrounds. They'll build a strong foundation of management skills and develop depth in a particular area of choice. And it'll be delivered in a way that allows them to immediately apply what they've learned at work. It's a win-win."