Nov 14, 2019 2019-11 Business Administration Faculty Research in Education
Anand, team receive FDA federal contract to study ways to improve pharmaceutical quality
The US Food and Drug Administration (FDA) has awarded more than $1.7 million to researchers from five universities, including the University of Illinois' Gies College of Business, for a wide-ranging study designed to help the agency better understand how pharmaceutical manufacturing processes can be improved. This study will help the FDA look for better ways to ensure its inspections of manufacturing operations lead to better quality end products. Gopesh Anand, associate professor of business administration at Gies has teamed up with principal investigators from Indiana University and The Ohio State University and co-investigators from The Ohio State University, University of Wisconsin and Long Island University for the two-year research project.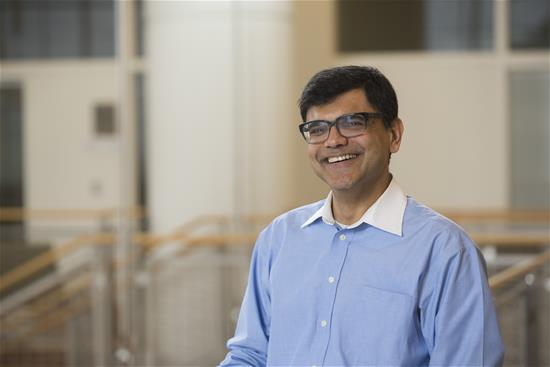 "Our aim is to figure out ways in which the FDA can work with manufacturers to increase compliance with good manufacturing practices and improve the quality of end products," said Anand. "Efforts in these directions can result in benefits to the manufacturers and the FDA, and provide more dependable quality for consumers of FDA-regulated products."
Anand brings more than a decade of research experience to the team. He has published papers on inspections of pharmaceutical and medical device manufacturing, and he is currently working on projects focusing on recalls of these products. These are important areas given that adverse drug events are related to nearly one million emergency room visits each year while drug product recalls have increased in each of the last ten years.
As part of the study, researchers will examine the effectiveness of existing FDA efforts and try to predict types of inspection approaches that lead to better compliance and higher drug product quality. Anand will be part of the effort to develop a better understanding of the relationships between the FDA approaches to facility inspections, and actions and outcomes of manufacturing facilities.
"It is important to examine the approaches that inspectors use to maintain proper conditions in the facilities that manufacture and store FDA-related products," said Anand. "We will study the implications of the different approaches and assess the effectiveness of those approaches under different conditions."
Others involved in the project include:
George Ball, assistant professor of operations and decision technologies and Weimer Faculty Fellow at the Indiana University Kelley School of Business
John Gray, professor of operations at the Fisher College of Business at Ohio State University
Enno Siemsen, associate dean of MBA and Masters Programs and the executive director of the Erdman Center for Operations & Technology Management, and Hassam Bavafa, assistant professor of operations and information, both at the Wisconsin School of Business at the University of Wisconsin-Madison
Hyunwoo Park and Christian Blanco, assistant professors of management science at the Fisher College of Business at Ohio State University
Kenneth R. Morris, University Professor and director of the Lachman Institute for Pharmaceutical Analysis at Long Island University
About Gies College of Business
For more than 100 years, Gies College of Business has intentionally designed its innovative programs, leading-edge curriculum, and experiential learning opportunities to empower and prepare students to turn big ideas into meaningful actions. Today, Gies faculty prepare more than 7,000 future business leaders, including 3,100 undergraduates, from around the world to put their purpose into practice and provide transformative leadership in a global economy. GiesBusiness.illinois.edu