Oct 15, 2019 2019-10 Business Administration Faculty
Shin brings unique global perspective to Gies Business
You won't find many professors with a more diverse, global perspective than Solee Shin. She was born in the United States, spent much of her youth in South Korea, earned college degrees in both South Korea and US, completed her postdoctoral fellowship in Sweden, worked as an assistant professor in Singapore, and now returns back to the US as an assistant professor in the Department of Business Administration at Gies College of Business.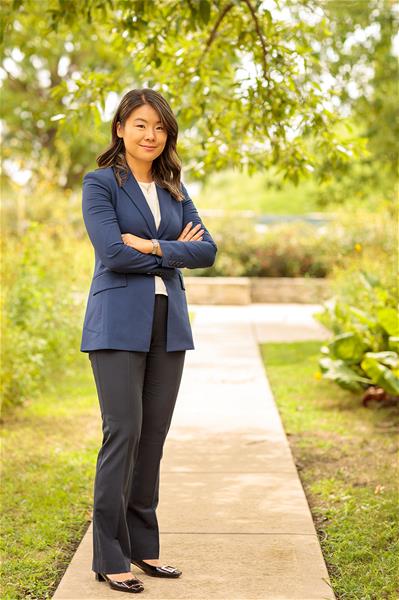 Adding to the unique perspective Shin brings to Gies is the fact that she holds three degrees in sociology – certainly not the traditional path of business professor.
"Macro sociologists like myself are interested in stepping back and making observations," said Shin. "We like to sit back, watch the business world float by, and theorize from a macro historical perspective. In the business school environment, we have people who are much closer to actual practice – so having people like myself from different backgrounds allows students to see things from a new perspective."
Shin will bring that fresh perspective into the classroom at Gies, where she will teach global supply chain management. That's in line with much of her research, which focuses on the evolution of global buyer and Asian supplier relationships– or "global value chains" as it's called in the social sciences.
"In the second half of the 20th century, we saw a transformation where the global economy became organized from the perspective of large retailers and merchandisers – like Walmart, Target, and Nike" she said. "These large retailers started placing orders in Asia and organized the export-led industrialization of East Asia. Many East Asian firms do not directly manufacture goods anymore but still play significant roles coordinating their buyers' supply chains."
Shin has also shown the ability to be flexible with her research topics. Over the last two decades, K-Pop has gained worldwide popularity, and she has found a niche investigating this new genre of popular South Korean music. In her paper, "Organizing K-pop: Emergence and Market Making of Large Korean Entertainment Houses. 1980-2010," Shin uncovers some of the factors that led to K-pop's rapid rise in global popularity.
"From an outside perspective, it has definitely been one of my most popular research topics," she laughed.
It's no surprise these big picture cultural phenomena are of great interest to Shin, who describes herself as a "sociologist of business." After earning her bachelor's in sociology and women's studies from Ewha Women's University in South Korea, she earned both a master's and PhD in sociology from the University of Washington. She completed her postdoctoral fellowship at the Centre for East and South-East Asian Studies at Lund University in Sweden before spending the past four years as an assistant professor of sociology at National University of Singapore. Now, her world travels have led her to Gies, where she hopes to continue the tradition of innovation and excellence in business education.
"When I interviewed at Gies Business, I got the sense that it was a place that's very open to people with non-traditional backgrounds and interests in interdisciplinary issues," she said. "It's a great fit."