Oct 10, 2019 2019-10 Business Administration Faculty
Virudachalam uses numbers to improve lives of most vulnerable
Some people have a passion for numbers. Nothing makes them happier than solving for "x," contemplating "y," or developing the complex theorems that will solve some theoretical problem twenty years from now. Vanitha Virudachalam, however, is not one of them.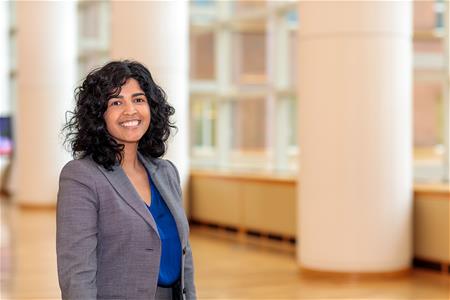 "I enjoy doing math," said Virudachalam, instructor of business administration at Gies College of Business, "but I like it when math has a practical and tangible impact." For her, numbers mean nothing unless they're meeting a human need.
That's why Virudachalam enjoys the study of operations. More specifically, she enjoys looking at the complex systems that we all encounter in the public sector. "I have always wanted to work on problems that can improve the lives of people who are most vulnerable," she explains.
She witnessed that vulnerability first hand during a summer internship for a non-profit organization in Rio de Janeiro, visiting the mountain slums and seeing how abstract policies affected real children struggling on the streets. "I learned a lot about the world from that internship."
Back home, she continued to delve into the complex systems that shape people's lives. Her master's thesis at the University of Chicago's Harris School of Public Policy examined how smarter capacity utilization could lower healthcare costs, while her dissertation at The Wharton School at the University of Pennsylvania explored performance-based incentives in public sector jobs.
With her studies officially complete, she's excited to be teaching at Gies. "I think it's a really great environment to start my career, where I'll have supportive colleagues who I can talk to about interesting problems," said Virudachalam.
She also likes the fact that Illinois is a public school that's open and welcoming to all. "Most of my education has been at public schools," says Virudachalam, who was well-acquainted with the school, long before setting foot on campus. "I grew up hearing about the University of Illinois, because it's such a gem in the Midwest," said the Tinley Park, Illinois, native. "I never imagined getting a job here."
Virudachalam will be teaching a course on data analytics, where she looks forward to the daily give and take of the classroom. "When you're teaching you get to interact with a whole variety of backgrounds and hear different perspectives," says Virudachalam. "I think, especially when you're dealing with more real-life problems, that can lead to a really rich and interesting discussion and help you think about things you haven't thought of before."
She's also excited about mentoring students who are searching for their purpose in life. She remembers a time, not too long ago, when she stood at a crossroads, with her master's complete and no real clear plan ahead. That's when she says two professors at Harris supported her, encouraging her to pursue a PhD. "I certainly benefited from a lot of people investing in me and believing in me throughout the course of my career," says Virudachalam. "I hope I can do that for students as well."