Oct 4, 2019 2019-10 Business Administration Faculty
Bruce's career turns from politics to business research
What skills do you need to get ahead in business? And how can companies harness those skills to make the most of every opportunity? With his background in political science and sociology, these are some of the research topics that intrigue Josh Bruce, who recently joined Gies College of Business as an assistant professor in the Department of Business Administration. From human resources management to research methodology, he'll be helping students explore these and other issues related to organizational behavior.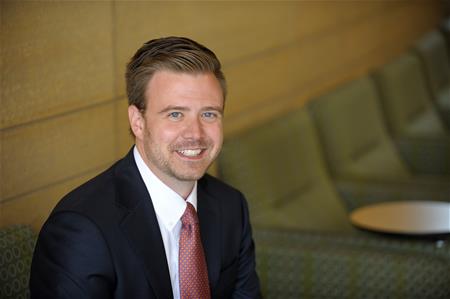 Teaching wasn't always on Bruce's radar as an undergraduate student. The political science major had visions of joining the State department and seeing the world. He studied Russian and even landed an internship at the US embassy in Moscow, but his experience on the ground eventually led him to say "dasvidaniya" to those plans.
"It was super fascinating," said Bruce, "but not where I wanted to live and not necessarily the schedule I wanted to keep."
Instead, he decided to continue his studies, earning a master's in social sciences at the University of Chicago, followed by a master's and PhD in sociology from Duke University. With his studies complete, he considered heading west to pursue a career in the Bay Area, but ultimately the Indiana native opted to return to the Midwest and the many exciting opportunities available at the University of Illinois.
"Gies College of Business gives me the flexibility to do the type of work that I want to do in a very collegial environment," said Bruce. "The College also has a ton of resources in terms of people and the students who are here, and the monetary resources that they have to support research."
For Bruce, that research revolves around a wide range of topics, from organizational theory and economic sociology, to computational social science and the ways companies deploy both their human and social capital.
"Generally, I'm interested in knowledge and skills that people build up over their careers that can have repercussions both for themselves and the organizations that they interact with," said Bruce, whose recent research looked at skill accumulation and career mobility in the US civil service as well as occupational prestige and employment trade-offs in the public sector.
At Gies, Bruce will be teaching a doctoral course on research methodology and an undergraduate course on strategic human resources management.
"I'm particularly excited about this because HR often gets a bad name that it doesn't deserve," said Bruce, who believes human resource departments play a critical role in companies, especially in a knowledge-driven economy where people are the main resource. "I'm excited to teach and interact with students thinking about some of the concepts that are core to the successful management of people in an organization."
As a social scientist, Bruce will also be helping students view human resource decisions through a broader lens. "If we think about things like inequality in the work place, social changes that are going on in the country, and how they're going to affect hiring, and retention and things like that, I think that can also be a really interesting dynamic in this course."