Sep 3, 2019 2019-09 Business Administration Faculty
First Midwest Healthcare Management Conference a lifetime in the making
Imagine a childhood where the city around you changes significantly. Overpopulation in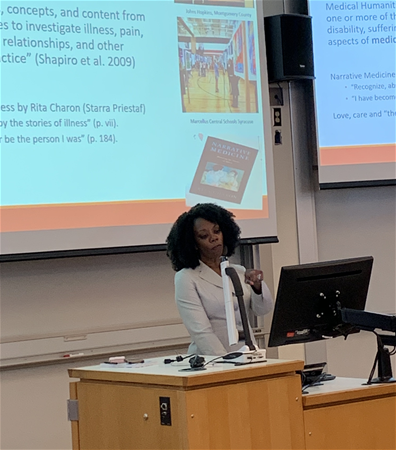 impoverished areas suddenly means that a great number of people look for help from resources that can no longer meet their needs.
This is what Ujjal Mukherjee, assistant professor in the Department of Business Administration at Gies, witnessed growing up in Kolkata, India – particularly regarding the area's healthcare delivery.
Now at Gies since 2015, his goal is simple: Make a difference in the healthcare people receive.
"It is my mindset that, yes, these issues exist, but what can we do about it?" Mukherjee said. "I believe that there are answers to problems like access, awareness and affordability in healthcare."
Like Mukherjee, many other faculty members at Gies work on issues related to healthcare. Research topics in healthcare conducted here include financing, contract management, economics, behavioral health, and similar research areas that hold the promise to make significant impact to healthcare delivery.
The Department of Business Administration at Gies – including department head Cele Otnes and head of the newly formed Information, Operations, Supply Chain and Analytics area within Business Administration, Sridhar Seshadri – realized the opportunity to integrate and leverage the research efforts of several faculty members based in the area of healthcare analytics.
They quickly set a goal to create a forum that could bring together researchers from leading universities and with practitioners to understand and improve clinical practice.
"The idea was to create a platform where academia and practice can meet and exchange views and ideas as to how we can address the tremendous challenges faced by healthcare today," Seshadri said.
Otnes then emphasized the department's ability to collaborate and push forward with groundbreaking healthcare research.
"We are looking forward to partnerships and collaborations to play our part in managing healthcare IT, healthcare processes, new technologies, and healthcare costs in the most efficient and effective manner," Otnes said.
From the moment Gies Business Dean Jeffrey Brown first reviewed the proposal for this conference to the moment he provided a welcome speech, his belief in its value never wavered. In his mind, the list of presenters and the topics covered displayed perfectly how Gies Business can lead the way in purposeful research that will change lives.
"How could I say no to such an initiative? Considering we are on a campus with a newly formed medical school – and we are within an ecosystem that includes essential healthcare organizations – this conference was a clear opportunity to combine the strength of Gies Business with some of the nation's great minds in healthcare research," Dean Brown said.
Then, on August 16 and 17, 65 people attended the 2019 Midwest Healthcare Management Conference at the Business Instructional Facility (BIF). Conference speakers featured top academics and practitioners from across the region. Here's a full list of speakers and presentations.
The conference included four keynote speakers, who placed the spotlight on new ways to address healthcare problems years in the making:
Stephen A. Boppart came from across campus at the Carle Illinois College of Medicine. He emphasized the key role technology will play in the future in delivering high quality healthcare at affordable costs.
From the University of Chicago, John R. Birge discussed research that explores methods to expedite innovation in drug discovery at a lower level of investment than is generally required today.
Also from Carle Illinois, Martin Burke and Ruby Mendenhall presented research on the pivotal role community health workers and citizen scientists play in making healthcare accessible to the very impoverished and underserved communities in our country.
Kelly George, Vice President of Performance Improvement for OSF Healthcare, spoke about her organization's initiatives in rural health. This included projects like telemedicine and the simulation center.
Faculty from Business Administration at Gies, showcased a number of presentations focused in healthcare research:
Also, Assistant Professor of Finance at Gies, Julian Reif, shared research about the effectiveness of workplace wellness programs.
PhD candidate Tiancheng Zhao presented his research on healthcare demand estimation during mass gatherings, using data from Kumbh Mela in India, which witnesses congregation of pilgrims in excess of 40 million in a localized region over a period of a month.
Assistant professor Lavanya Marla from the Grainger College of Engineering at UIUC presented her findings from an ambulance abandonment study in India.
Apart from the UIUC presenters, there were several important presentations from researchers at other universities:
Diwakar Gupta from UT Austin addressed operational challenges in Global healthcare.
KC Diwas from Emory University spoke on the adverse effect a lack of surgeon focus can have on healthcare outcomes.
Jingwen Yang and Kingshuk Sinha from University of Minnesota highlighted the important role clinical guidelines play in making precision medicine in behavioral health effective.
Yi Tang from University of Minnesota emphasized the critical role of mobile apps in identification and treatment of the increasingly serious problems in behavioral health.
Professor Vishal Ahuja from Southern Methodist University researched the continuity of service in treatment of chronic diabetes
Paola Martin from UT Austin presented her theoretically driven views on optimal contract structure for vaccine procurement in underserved communities.
And Pengyi Shi from Purdue University showed findings relating optimal discharge of surgical patients to reduced readmission risk.
Moving forward, the Department of Business Administration at Gies College of Business plans on the conference growing into an annual event. Ideas for next year's include narrowing the focus to individual topics like rural health or behavioral health.
The College also believes the connections made at this year's conference will provide a new path to collaboration and research for many of the speakers and attendees.