Aug 30, 2019 2019-09 Business Administration Student
Ibeabuchi helps MLS players transition into their next careers
Chidozie Ibeabuchi treats professional athletes as people first, and as players second.
"I feel like that is something that has carried me throughout my career, focusing on them as a human being first," said Ibeabuchi, who has served as the Director of Player Engagement at Major League Soccer since December. "Players are the lifeblood of what we do at Major League Soccer. That's the point I never overlook."
Ibeabuchi, who recently turned 29, is a part of the newly formed MLS Player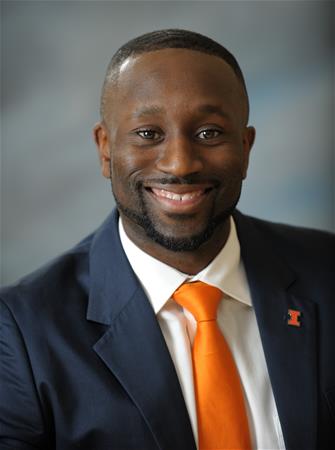 Engagement team, which provides valuable resources to players as they progress through their playing careers. This support includes total wellness, educational resources, and career development opportunities. Ibeabuchi specifically is responsible for driving the outreach strategy for current and former MLS players. During the week of soccer celebrations and fan festivities leading up to the 2019 MLS All-Star Game presented by Target, Ibeabuchi helped lead the launch of the MLS Greats Network, MLS' official alumni group open to any player who ever signed a league contract. Ibeabuchi also spearheaded the Careers in Soccer Summit, where a group of former players learned about various careers in the business and sports industry, received professional development training, and participated in networking opportunities.
Prior to his role at MLS, Ibeabuchi served in numerous capacities over six-and-a-half years at the National Football League, including more than two years as Manager of Player Engagement. In that role, he created and facilitated career development programs for both current and former NFL players.
"Everybody goes through transitions in their lives, and these players have been doing the same thing since they were young, so it's naturally going to be a scary process transitioning to a new career," said Ibeabuchi, a Boston native who now resides in New York.
In both the MLS and NFL, Ibeabuchi said he's used lessons from the iMBA program at the University of Illinois' Gies College of Business. The iMBA is the College's online delivery format for the MBA degree. It is flexible, highly-engaging, and can be completed in 24-36 months. Ibeabuchi began the iMBA program in 2017 while he was with the NFL, and he is set to finish in December 2019.
"I believe the iMBA is and will continue to be a major disruption in the higher education industry," he said. "As a full-time employee, I was attracted to the idea of completing the program despite having an extensive travel schedule for work. My decision to select Gies iMBA was solidified with the program's emphasis on networking opportunities. You cannot make it through this program without interacting with your cohort and faculty, whether through the weekly high engagement live sessions, or individual and group assignments."
Ibeabuchi says he had never taken an online course before enrolling in the iMBA, but he says he quickly became a believer in the unique delivery model Gies offers.
"The curriculum is extremely rigorous. It's taught by the same on-campus, full-time Gies professors," he said. "This makes my experience that much more worthwhile as I know that I am receiving an incredibly high level of education. You also have some of the best professionals from Fortune 500 companies in the iMBA program, and it's great to connect with those industry leaders."
Ibeabuchi is the youngest of five children; his older siblings, Chizoba Nwosu is a nurse practitioner, Chike Ibeabuchi, a prosecutor, Nneka Ibeabuchi, a pharmacist and Chibuzo Ibeabuchi, a physical therapist. Ibeabuchi's father, Stanley Ibeabuchi, is an entrepreneur who owns a grocery store, and mother, Cecilia Ibeabuchi, is a clinic nurse manager. Both his parents are from Nigeria.
Ibeabuchi said he always wanted to work in sports his whole life. He was a star high school basketball player at Boston Latin School, and like many young kids, Ibeabuchi had hopes of one day playing in the NBA. His parents, at a very young age, instilled in him and his siblings the importance of an education, and they always encouraged Ibeabuchi to have a game plan off the court. After realizing very early in high school that he was not going to play professionally, Ibeabuchi embarked on this plan, which was one day working in the front office of a professional sports league.
Ibeabuchi attended St. John's University in New York City, where he interned at Madison Square Garden, working with the New York Knicks, Rangers, and Liberty. Soon after earning his degree in Sports Management with a business minor, he was accepted into the NFL's elite Junior Rotational Program which accepts only six to eight of the more than 2,000 candidates who apply every year.
With the NFL, Ibeabuchi served in numerous roles, including special events, assisting with events surrounding Super Bowl XLVII, fan strategy and marketing, the NFL Player Care Foundation, and entertainment and player marketing, where he assisted in the launch of the NFL Legends Community.
Ibeabuchi said he's excited to earn his MBA from Gies, in part because he'd like to become a professor. "I've learned how so many businesses outside of sports work, and a lot of the core teachings I've learned, I've been able to utilize early on in my career. My passion is helping others and becoming a professor will help me to continue to teach the next generation of aspiring business leaders."