Aug 26, 2019 2019-08 Business Administration Faculty
Mehrotra eager to influence future business leaders
Mili Mehrotra knows firsthand the impact a good professor can have on the trajectory of a student's life. Growing up in India, Mehrotra never dreamt of a career in academia or even going to the United States, but some professors in her life showed her the potential she possessed and pointed her in a new direction.
"I was fortunate to have some great mentors throughout my academic career," said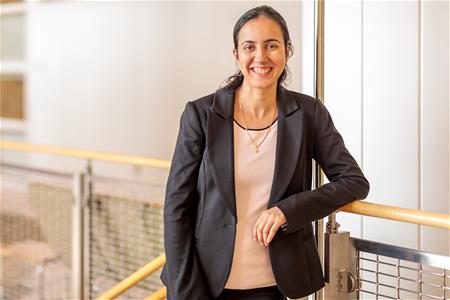 Mehrotra. "They nudged me toward obtaining a PhD, when I didn't think it was possible. They provided me with valuable information that set me on my current career path."
Mehrotra now hopes to provide that same impact as an associate professor in the Department of Business Administration at Gies College of Business. Prior to joining Gies, Mehrotra was on the faculty at the University of Minnesota's Carlson School of Management. She earned a bachelor's and master's degree in mathematics from Banaras Hindu University in Varanasi, India before completing her master's in supply chain management and PhD in operations management from the University of Texas at Dallas.
Teaching is her first love. It's what originally drew her to academia, and she's eager to help develop the next generation of business leaders at Gies.
"The satisfaction on a student's face of having understood a concept is a huge motivation for me," she said. "If I can explain something, and a student can grasp and eventually use it, that is quite gratifying."
In her first semester at Gies, Mehrotra will teach supply chain modeling. In the spring, she will teach another supply chain course in addition to a decision analytics course. Much of Mehrotra's research centers around socially responsible supply chain and operations. "With all the increased globalization and improved societal awareness of responsible and sustainable practices," she said, "firms are motivated to take their social responsibility and those of their supply chain partners much more seriously.''
The objective of her research is "to understand how the consideration of social perspectives influences the operational decisions of key decision makers within the supply chain.'' It's a concept she hopes to ingrain in her students and a topic she hopes to research further with the support she receives at Gies College of Business.
"This is a great opportunity for me to do the kind of research I want to do," she said. "And I'm excited to work with the great colleagues and outstanding students here at Gies."