Feb 28, 2023 Accountancy Alumni Giving Stories
Dossey leading fundraising charge to honor longtime Gies professor
Doug Dossey (ACCY '95) is asking fellow alumni to join him in honoring Art Wyatt, one of Gies' beloved professors who inspired countless students and helped revolutionize how accounting is taught at the undergraduate level.
Dossey and his wife, Kathrin Dellago, have created a 1:1 matching fund up to $250,000 to recognize Wyatt. This gift is given as part of a larger gift from the couple to underwrite the fourth-floor faculty offices and suites in the College's new building, which is scheduled to be completed in late 2024.. The goal is to use the combined donations from others, who were also mentored by Wyatt, to name a space in his honor.
Dossey, founder and managing partner of San Francisco-based Tensile Capital Management, met Wyatt when he volunteered to join a small cohort to test out a new accountancy curriculum, called Project Discovery.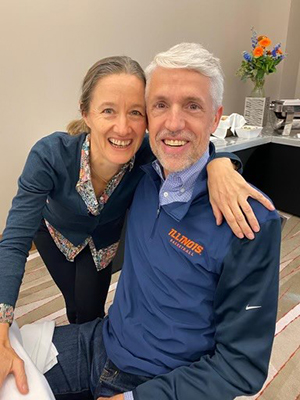 "It was literally a paper sign-up sheet, and you checked a box 'Yes' or 'No'. I thought, 'Why not?' and was in. The next semester I took my first course with Wyatt – who was probably about my age now – and was immediately impressed with this older businessman who carried himself differently from my other professors," said Dossey.
Created in the mid-1990s, Project Discovery focused on learning through case studies and the application of accounting on business practices. It was, at the time, an innovative approach to accountancy education that emphasized an active learning process rather than singular technical and tangible lessons. The results were almost immediate. In 1997, just a few years after Project Discovery launched, 51 percent of Gies accounting students passed the CPA exam on the first attempt – compared to the national average of 16.5 percent.
"Art Wyatt's unique vision for the future of accountancy education was both extraordinary and groundbreaking," said Michael Donohoe, head of Gies' Department of Accountancy. "Project Discovery was a tremendous leap forward in that it emphasized concepts and principles rather than tasks and details. It underscored collaboration, problem solving, and communication — crucial skills in the real-world. The result was, and continues to be, that Gies Accountancy graduates are well-equipped for the professional challenges of today and, importantly, tomorrow."
For Dossey, Wyatt did much more than teach accounting principles. Wyatt, who taught at Gies for more than 25 years and was inducted into the Accounting Hall of Fame, took the mystery out of the business world and shared the soft skills that would help him succeed.
"I had declared my major but didn't know much about it. All I knew was my uncle was an accountant and drove new cars, and we drove used cars," said Dossey about growing up surrounded by farms near Eureka, IL. "My parents were very encouraging and open-minded about my choice of majors, but they didn't have any experience or awareness of what my options were."
Dossey, who was recruited by Illinois to join the track and field team as a high jumper, was serious about academics, but found the competition with kids from Chicago-area high schools tough.
"I was always prepared to answer questions but was initially quiet and didn't engage with him outside class," said Dossey. "But when Art found out I was an athlete, as he had been as an undergrad, he asked me to come by his office sometime. When he learned about my background, he told me I was going to need to learn how to play golf because it was a skill I'd need in business. We made a connection, and I became one of his many projects."
Wyatt, who earned three degrees from Illinois, taught Dossey — and many others — the language of business and exposed him to its workings on a global scale. For example, he joined Wyatt when he presented to the Financial Accounting Standards Board, of which Wyatt had formerly been a member, in Connecticut. But after a summer internship at an accounting firm, Dossey quickly decided auditing wasn't for him.
"It was a tough conversation to have, but Art didn't skip a beat," said Dossey. "He introduced me to the world of investment banking and suggested I join the training program of one of the larger firms to get exposure to business leaders and financial products. My background in accounting proved very useful and allowed me to excel right out of the gates."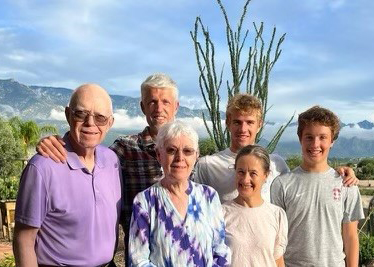 At Wyatt's request, Dossey took — and passed — the CPA exam, then worked for three years as an analyst for Merrill Lynch. In 1998, he transitioned to private equity firm FdG Associates, which invested money for a group of wealthy New York families. In 2009, he was recruited to join Blum Capital Partners, which was the pioneer in hybrid investment – investing in public and private businesses from the same fund. In 2012, he and co-founder Arthur Young left Blum to create Tensile. They focus on long-term compounding of capital via investments in public and private businesses on behalf of endowments, foundations, and high-net-worth families.
Dossey says his career trajectory was made possible by the incredible encouragement and access Wyatt gave him. In turn, he and his wife support programs that focus on underrepresented and first-generation undergraduate students. They also recently honored Doug's parents with a gift to establish a Student-Athlete Development Center inside Illinois' Ubben Basketball Complex.
"Art Wyatt helped me understand and enter a world that a kid from Eureka couldn't imagine," said Dossey. "And he taught me by example how valuable and rewarding it is to give back."
Read more about Wyatt's career and contributions to Gies College of Business and reach out to Angie Price (angie1@illinois.edu) to learn more about contributing to the Art Wyatt fund.