Dec 3, 2020 2020-12 Alumni Finance
Illinois AD Whitman: Gies alumni "always expanding their influence"
Josh Whitman has a unique perspective on Homecoming, but perhaps that's because Illinois' director of athletics has experienced the fall tradition from more perspectives than just about anyone else. Whitman, a 2001 graduate of Gies College of Business, has participated in Homecoming as an undergraduate student, student-athlete, graduate student, alumnus, and now head of one of the largest athletic departments in the Big Ten. And while at each level, this great fall tradition takes on a different meaning for Whitman, its importance to the University of Illinois family has never changed.
"Homecoming as an undergraduate student at the College of Business – now Gies – was one of the first times I had my eyes opened to this big universe of people who have direct connections to this university and how successful our alumni have been," said Whitman, who earned his bachelor's in finance. "There's just a different feeling in the air for Homecoming week. Simple things like walking across campus and seeing students with their parents are the moments that stick with me to this day."
Whitman didn't have too much time to relax and soak it all in at the time; he was quite busy. In addition to his hard work in the classroom – which helped him graduate with highest honors and become a Bronze Tablet recipient – Whitman was also a star tight end on the Fighting Illini football team. While other students were showing their parents around campus or participating in Greek life alumni events, Whitman and his teammates were preparing to take center stage on Homecoming Saturday.
"You always knew on Homecoming, the stage would be bigger, the lights brighter, and the crowds larger," Whitman recalled. "You always felt like you were a part of something bigger than yourself, and that's a message I reinforce to our players today. Wearing that uniform, you represent all the players who came before you."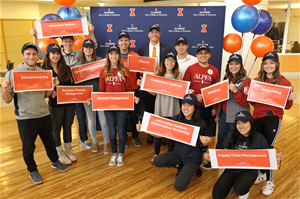 After graduating in 2001, Whitman pursued a professional football career for four years before returning to the University of Illinois for law school. He recalls how the coursework consumed his time, but he was still able to slip out to attend a Homecoming tailgate and the football game. After completing law school, he practiced law for two years before transitioning into athletics administration. He spent the next six years leading athletic departments at the University of Wisconsin-La Crosse and Washington University in St. Louis. When, in 2016, he returned to his alma mater as the Fighting Illini director of athletics, it was the first time he'd be on campus for Homecoming since graduating from law school – this time with a completely different perspective.
"There's no question my position has afforded me a much more comprehensive look at Homecoming," said Whitman. "That has really been special for me to realize what Homecoming means across campus, across the colleges, clubs and Greek organizations. It gives me a lot of pride to be able to contribute in a big way through the marquee experience of our football game."
What has also given Whitman a great deal of pride is the Gies Business alumni network – more than 71,000 strong – that he's become even more connected with over the years.
"As I've had a chance to travel and spend more time with Gies alumni, it's been remarkable to learn about their level of achievement and their values and their contributions to society," he said. "Too often we equate achievement with success or position, but it's really about your broader impact on society and the world. That's been revealed in my interactions with Gies alumni. They are remarkably talented, creative, insightful, and in tune with their broader responsibility to our nation and our world."
"I often meet with recruits, and I explain that we have such a great platform to think on a grand scale. I love that our Gies graduates do that. They don't feel limited or constrained by geography, technology, or current practices. Gies alumni are always expanding their influence, and that's been inspiring to witness."