Oct 20, 2020 2020-10 Faculty Finance
Innovative Gies leader and professor Larry DeBrock retires
Larry DeBrock, a visionary educator and beloved professor, retired this spring after more than 40 years with the University.
DeBrock's legacy of innovation, leadership and scholarship will impact Gies College of Business for decades to come. The Dean Emeritus and Professor of Finance and Professor of Economics served as the ninth dean of Gies from 2009 to 2015. He became a faculty member at the University in 1979.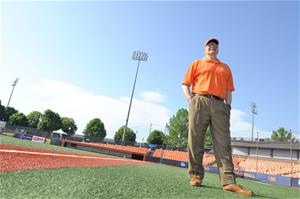 An internationally respected researcher and a nationally recognized economist, DeBrock focuses his research on health economics, industrial organization, and the labor market. He has served as a consultant and expert to several public panels. DeBrock, who earned his PhD in economics from Cornell University, is published in and has refereed top journals, including, among others, the Review of Economics and Statistics, the Journal of Law and Economics, and the Journal of Labor Economics. An avid Cubs fan, he has also written scholarly articles topics such as labor management negotiations in major league baseball and the impact of salary distribution.
"When I came to Illinois in 1979, I could not have envisioned the growth of our College, the changes and challenges in academia and the business world, or the opportunities that those challenges and changes would create for me. I want to thank everyone who has provided wise counsel, loyal support, and true friendship over the years. Together, we have had the privilege of impacting the lives of students and shaping the future of business."
DeBrock began his tenure as dean by opening of the Business Instructional Facility, the first building at any public university business school to receive LEED Platinum certification for its green design and construction. His commitment to excellence led to the College's continued accreditation in business and accounting by AACSB International (placing it among the top five percent of the world's business programs), students' education in professional responsibility through Business 101, faculty successes, partnerships with other institutions, the continuously high placement numbers of Gies Business Career Services, and the number of companies who recruit Gies students and alumni.
Under DeBrock's leadership, the College's online infrastructure was built, recording studios for online teaching were created, the eLearning office was established, and the college's highly successful iMBA program was conceptualized, approved, and created. Launched in 2016, it was the first online MBA degree program offered through Coursera. He also led the creation of an online business minor, multiple online courses in partnership with Coursera, and the first-ever 3D printing lab in a college of business.
DeBrock masterfully leveraged what technology offers by building his courses specifically for online learners. He then modeled its effective application for other instructors. DeBrock did more than support and oversee the iMBA; he was one of the first professors to teach in the program. His "Firm Level Economics: Consumer and Producer Behavior" course is one of the program's highest-rated courses, with an average user rating of 4.8 out of 5.
MBA students named him Faculty of the Year seven times, and he has won numerous professional, graduate, and undergraduate campus teaching awards.
"I will fondly picture Professor DeBrock's smiling face when thinking about supply and demand curves and paying for things with green sheets of paper. When I started the iMBA I was terrified of economics, but then he captivated me. His belief in my abilities when I was full of self-doubt changed my learning journey to one of confidence and trust no challenge was too great," said Karen Finocchio Lubeck ('19 MBA).
DeBrock had a gift for making complex economic concepts both compelling and understandable whether lecturing in Foellinger Hall or in a virtual classroom. Not a week passes without students referring to Larry's Tree Trimming Service or quoting oil prices from around the world – one of his favorite ice breakers for starting a class.
Even though DeBrock reached the summit of business education, he also loved teaching Business 101, a foundational course for all Gies College of Business freshmen and transfer students. The course addresses ways to develop professional responsibility as an individual, in one's career, and as a member of organizations that play a critical role in society.
DeBrock has touched the lives of thousands of undergraduate and graduate students across a spectrum of programs, including the full-time and professional MBA, the Executive MBA, the iMBA, guiding students on a path to discovering their purpose and putting that purpose into practice to make the world a better place.
Colleagues say his dedication as a teacher and strength of character as a leader will continue to inspire them. Most of all, they will remember DeBrock for his integrity and kindness.