Jun 30, 2020 2020-06 Faculty Finance Research in Education
Molitor, Reif win NIHCM Foundation Research Award for workplace wellness study
Gies College of Business professors David Molitor and Julian Reif have been named winners of the 2020 National Institute for Health Care Management (NIHCM) Foundation Research award, given each year for outstanding published work in health economics. Molitor and Reif, along with their co-author Damon Jones of the University of Chicago, won the award for their paper "What Do Workplace Wellness Programs Do? Evidence from the Illinois Workplace Wellness Study," which was published in The Quarterly Journal of Economics.
The Illinois Workplace Wellness Study, which has garnered international attention in publications like The New York Times, Washington Post, Forbes, and Scientific American, is a large, randomized controlled trial of a wellness program at the University of Illinois at Urbana-Champaign. The study examines the effects of financial incentives on participation; investigates who benefits from the programs; estimates the causal effect of workplace wellness on employee health care costs, health behaviors, well-being, and productivity; and tests for peer effects in wellness program participation.

WATCH: David Molitor accepts award on behalf of co-authors Julian Reif and Damon Jones.
The randomized controlled trial showed that financial incentives increased participation in the wellness program, but the program had no effects on health care costs, health behaviors, and productivity. The researchers also found that healthier employees were more likely to participate when offered the program. This finding indicates that evaluating a wellness program by comparing employees who choose to participate to those who don't can lead to the wrong conclusions.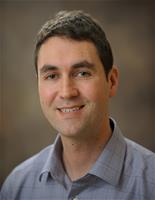 "We hope that the Illinois Workplace Wellness Study demonstrates the value of using randomized controlled trials to answer important health care policy questions," said Reif (right).
"The Illinois Workplace Wellness Study was a team effort with exceptional support from campus leadership and our funding partners," said Molitor. "It is great to have an esteemed panel of experts recognize our study as an outstanding contribution to our understanding of health care delivery."
This is the second major research award hauled in by Molitor and Reif this year. Along with co-authors and fellow Gies Professors Nolan Miller and Tatyana Deryugina, they won the 28th annual Arrow Award, given by the International Health Economics Association for the best health economics paper published in 2019. Their award-winning paper "The Mortality and Medical Costs of Air Pollution: Evidence from Changes in Wind Direction" was published in American Economic Review.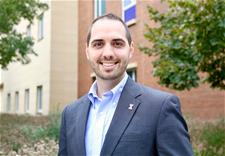 The NIHCM Foundation Health Care Research Award recognizes outstanding published work from researchers furthering innovation in health care financing, delivery, and organization or the implementation of health care policy. The award carries a $20,000 prize and is judged by an independent panel of experts from leading universities like Harvard, Stanford, Princeton, and NYU. This year, two winners were selected. In addition to Professors Reif and Molitor (left), Harvard's Zirui Song and the University of Chicago's Katherine Baicker were named co-winners for their paper, "Effect of a Workplace Wellness Program on Employee Health and Economic Outcomes: A Randomized Clinical Trial." Winners are selected based on three criteria: originality and creativity of the research; impact that the research may have in advancing the public policy debate or improving health care delivery and management; and relevance to one or more of the subject areas (health care financing, delivery and organization and/or the implementation of health care policy). The NIHCM Foundation is a nonprofit, nonpartisan organization dedicated to improving the health of all Americans by spurring workable and creative solutions to pressing health care problems.