May 13, 2020 2020-05 Accountancy Alumni
Alumnus Skinner offers business advice, shares vision for Chicago's future
Sam Skinner says he's always been someone who leaned into a challenge.
"My education at the University of Illinois trained me to run into the fire," said Skinner (ACCY '60), the Gies College of Business alumnus who has been tapped to co-chair Chicago Mayor Lori Lightfoot's COVID-19 Recovery Taskforce. "I believe in the city and want to make a difference. I have a strong allegiance to Chicago. Except for my time in Washington DC, it's where my first job was and where all my business activity has been."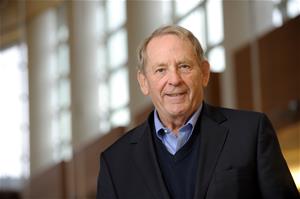 The former White House Chief of Staff will lead a task force that advises city government on planning for economic recovery in the wake of the pandemic. Skinner, who also spent three years as Secretary of Transportation, earned the nickname "Master of Disaster" as the point person in crisis situations, including the Exxon Valdez oil spill, Hurricane Hugo, and the 1988 terrorist bombing of Pan Am Flight 103 over Lockerbie, Scotland.
Skinner said that when Lightfoot won the Chicago primary election, he thought she was the kind of leader the city needed and even worked on her transition team. Then, a few weeks ago, he got a call out of the blue; Mayor Lightfoot asked him to lead Chicago's COVID recovery. He dove into the project the same way he approaches any crisis.
"Prioritize and create a plan that's achievable. Don't try to be everything to everybody. Understand the problem. Don't feel sorry for yourself. Seek advice from others that you respect, and don't be afraid to ask for help," Skinner said.
He cites higher education, mass transit, the convention business, and the restaurant industry as some of the most challenging aspects of moving toward recovery. In the short-term he encourages small business owners to apply for all the support they're eligible to receive – city, state, and federal programs – and, if possible, conserve cash.
"It's impossible to plan for how people are going to react when the city opens up. Be realistic and don't over-program. Talk to your leasing company and vendors and ask them to extend credit when you can," said Skinner. "It's outside of your control and it's frustrating. But do everything you can to hang in there."
Skinner first faced adversity when his father died when he was in 7th grade and his mother went back to work to support them. He says he acted out in high school and wasn't a great student. The Wheaton Warrenville South graduate chose to attend U of I because of its reputation.
Skinner credits his ability to navigate difficult situations to his time spent on the Urbana-Champaign campus. He took marketing classes while earning his accounting degree and appreciates the interpersonal skills he learned through campus activities. He said Gies and his fraternity brothers at Pi Kappa Alpha helped him become disciplined about academics.
"The environment was so special. You learned how to survive and be successful not only in the classroom but also as an individual by associating with people from diverse backgrounds from all over the state and the country," Skinner said. While at Illinois he developed a strong bond with beloved business and economics professors Vernon Zimmerman and Ken Perry and was president of the Accounting Club.
"The University of Illinois and Gies College of Business changed my life, for which I am forever grateful," said Skinner. His portrait now hangs in the Illini Union, a place where he studied often, amongst the University's most illustrious alumni.
Instead of joining one of the top accounting firms when he graduated, he accepted a position as a sales trainee with IBM Corp. He said he was drawn to work for a company that was at the time the No. 1 company in the world, respected not only for their business acumen but also for the way they treated other people.
"There was a real connection during that interview, and it caused me to rethink my skill set. At the last minute I did an audible and decided I'd be better in marketing and sales. Never underestimate chemistry when making a career decision," said Skinner, who went on to become one of IBM's top salesmen while simultaneously earning a law degree. "I always wanted to be a lawyer, but I had done very well in accounting my first semester. My fraternity brothers encouraged me to major in it and go to night law school after you join an accounting firm."
Skinner advises those who are still in college without a summer internship or who have just graduated to use this unexpected bump in the road wisely.
"Don't go to the beach every day. If you're not going to work yet, build a new skill set. Give back in public service," said Skinner, who added that networking is going to be more important than ever. "The economy will come back. It's just not certain exactly when and how."
Skinner has moved easily between big business, government, and the law throughout his career. He has spent 50+ years in the legal profession, first as a US Attorney for the Northern District of Illinois, then at Sidley Austin, and he is now of counsel at GreenbergTraurig. Following his time at the White House, Skinner ran USF Corp, named by Fortune as one of America's most admired companies each year he was CEO. He also served as president of Commonwealth Edison Co. and its holding company (now Exelon).
Now he's focused on helping Chicago move forward through one of the biggest crises it has faced. His vision for the city's future is clear.
"Recovery to me means we get people back to work. We get our schools open. We get our social service organizations financially solid and supported," said Skinner. "We need to do everything we can to keep the environment friendly for the business community and corporations that want to come in. Our role is to understand as best we can what the future is going to look like and make sure we make Chicago an attractive place to do business."