Apr 30, 2020 2020-04 Faculty Finance Research in Education
Gies research team wins prestigious Arrow Award
Four professors from Gies College of Business have been named winners of the 28th annual Arrow Award, given by the International Health Economics Association (iHEA) for the best health economics paper published in 2019. Tatyana Deryugina, Nolan Miller, David Molitor, and Julian Reif coauthored the award-winning paper "The Mortality and Medical Costs of Air Pollution: Evidence from Changes in Wind Direction," which was published in American Economic Review.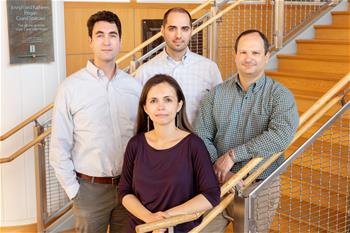 "It's an honor to have our work recognized by the profession at such a high level," said Deryugina, an assistant professor at Gies. "We have worked hard to make a contribution with our research, and this award is a sign that we have succeeded."
"Having seen the papers and authors who have won this award over the years, it is a real honor to have our work listed beside theirs," added Miller, the Daniel and Cynthia Mah Helle Professor in Finance at Gies. "We've been working on this project for several years, and it's great to see it finally in print and gaining recognition by our peers."
In their award-winning paper, the Gies researchers estimated the mortality costs associated with air pollution in the US by developing and applying a novel machine learning-based method to estimate the life-years lost and cost associated with air pollution exposure. Deryugina, Miller, Molitor, and Reif studied the causal effects of acute fine particular matter exposure on mortality, health care use, and medical costs among older Americans through Medicare data and a unique way of measuring air pollution via changes in local wind direction. They calculated that reduction in particulate matter experienced between 1999-2013 resulted in elderly mortality reductions worth $24 billion annually by the end of that period. Garth Heutel of Georgia State University co-authored the research, which was supported by the National Institute on Aging.
"Our research demonstrates that there are large health benefits to further reductions in air pollution, even in a country like the United States with relatively low pollution levels," said Reif, assistant professor of finance at Gies Business.
"This paper also shows that some people are especially at risk from air pollution," added co-author and assistant professor David Molitor. "Knowing who is at risk can improve efforts to protect population health when air quality is low."
iHEA's Kenneth J. Arrow Award was created to recognize excellence in the field of health economics with the Award presented annually to the author(s) of the paper judged to be the best paper published in health economics in English in the award year. Each year the Award committee consider a short list of up to ten papers, with each paper evaluated by all of the committee members in terms of importance and originality of contribution, appropriateness and innovation in methodology and clarity of presentation.