Apr 14, 2020 2020-04
iMBA student leads coronavirus response effort for Samaritan's Purse
New York City residents show their appreciation for those on the frontline fight against COVID-19 every night. Workers at the Samaritan's Purse emergency field hospital inside Central Park hear the applause from nearby windows and balconies and are uplifted by it. They're also quick to share that encouragement with those leading their efforts behind the scenes, people like Brock Kreitzburg (MBA '21).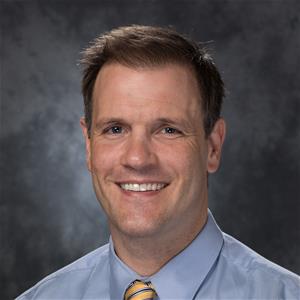 As the director of the international disaster response unit for Samaritan's Purse, Kreitzburg works at the Boone, North Carolina headquarters leading a team that monitors the world for disasters and prepares the organization to respond quickly and efficiently with the people, processes, and supplies needed to help. That can mean providing relief for victims of hurricanes, typhoons, earthquakes, and other natural disasters or responding to medical crises, like the coronavirus pandemic.
"We have a disaster response team of 1,400 people who have full-time jobs but also have the flexibility to deploy to areas when they are needed," says Kreitzburg. "For 30 years, our organization has been building the relationships, experience, and knowledge to understand the scale of disasters, the fluid nature of the situation, and the complexity of a humanitarian setting with many different stakeholders."
That experience and those relationships allowed the Samaritan's Purse team to mobilize quickly in response to the worldwide coronavirus crisis. On March 20, they opened a 68-bed field hospital equipped with a respiratory care unit with ICU capability in northern Italy. Less than two weeks later, they did the same thing in Central Park. Together, they have more than 170 people on the ground providing care for seriously ill patients.
"While organizing and managing two large-scale responses at the same time in different parts of the world is a challenge, there is immense satisfaction knowing you're working to overcome that challenge and provide lifesaving help at such a critical time," says Kreitzburg.
In his nine years with Samaritan's Purse, the first six serving on the ground in Japan, South Sudan, and Uganda, he has seen how his organization's commitment to strong decision making, communication, and strategic planning has been critical in meeting needs across the world. It inspired him to further his skills in those areas, too.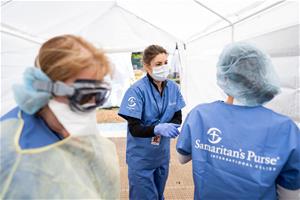 "I wanted to pursue an MBA in order to be a better leader and decision maker for my organization," he says. "I had relied on books, experience, and relationships, which was good, but I really wanted to have the foundational concepts and frameworks as a filter to add more value to our mission here."
Kreitzburg explains that the high-quality reputation and low cost of the Gies iMBA made it especially appealing. So did the online delivery, which provided the flexibility he needed to do a job that can require long hours and can change quickly. It also allowed him to meet his responsibilities at home. He and his wife Danielle, whom he met when they were both part of the Samaritan's Purse team responding to the tsunami in Japan, have three boys, Akai, 5, Ari, 4, and Atticus, 18 months.
It's a lot to balance, but as a former Olympic and national bobsled team member, Kreitzburg knows the importance of time management, discipline, teamwork. "As an athlete, it's vital to get the best training and then to trust in it," he explains. "I've found that in the Gies iMBA program."
The course content is relevant and real and has an immediate impact, he says, explaining that one day recently, after completing the reading for his strategic innovation course at 5 am, he was able to use what he learned about value creation and intangible resources to boost morale in a 9 am team meeting.
"Each day I lean on the concepts I've learned in the Gies classroom to make good decisions in managing our response to this crisis," he says. "I have a different lens that I look through now than I did two years ago. I came to the program with a strong sense of purpose in the work, and what I've found at Gies is a collaborative environment and an innovative curriculum that supports that purpose."

*Photos courtesy of Samaritan's Purse