Gnazzo brings the 2019 Leighton Lecture directly to students
"Ethics is an overlay on business, like vinegar is an overlay on oil. They go together. They make things better. But they don't mix."
That was the message delivered by Patrick J. Gnazzo, the featured speaker for the 2019 Leighton Lecture on Ethics and Leadership. Gnazzo is the founder and principal at Better Business Practices LLC, a company that provides independent, executive leadership and assessments of ethics and compliance programs. He also serves as an appointed corporate monitor and has been a corporate ethics and compliance officer.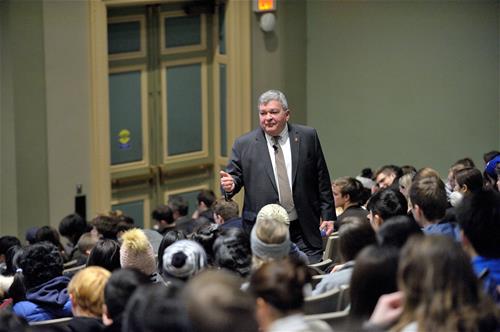 His topic was "Business and Ethics are Like Oil and Vinegar." In explaining his title, Gnazzo added, "Ethics and business don't mix because people destroy ethics, and they destroy business." As Gnazzo described, not everyone in a company chooses the right direction or in the direction suggested by company values. Gnazzo, who has extensive experience in corporate ethics and compliance for domestic and international businesses, moved away from the standard lecture format and literally brought questions of ethics and compliance home to the students: walking among the seats at the Lincoln Hall Theater, asking questions directly to students, and challenging them to examine ethical business dilemmas and articulate a response.
Gnazzo explained that companies usually have a stated set of core values that define the company mission and how it tries to achieve that mission. The mission can encompass a number of goals: make more money, fulfill a business plan, or expand to a new region or country. The difficulty, Gnazzo said, "is that along the way, people look for shortcuts."
Helping employees to recognize and avoid shortcuts that create legal problems or result in ethical lapses is the task of the ethics and compliance officer. Gnazzo provided several examples from his career and noted that his most frequent suggestion to employees was to refer back to the company's core values. "The job of the ethics and compliance officer is to be the voice of those core values. Whatever the company is espousing as its values, it's the job of the ethics and compliance officer to remind people of those values," he said.
The Leighton Lecture was just one of several activities Gnazzo participated in during his November 13 visit to Illinois. He met with students in the Business Ethics Academy and with other student groups, including Business and Environmental Responsibility, a registered student organization. He also participated in a video interview for a forthcoming video series on Business Ethics Pioneers, a project initiated and coordinated by the Center for Professional Responsibility in Business and Society.
Gnazzo is an Executive Fellow at Bentley College's Center for Business Ethics, a former member of the Procurement Round Table, and was a member of the Board of Advisors of the National Contract Management Association. He formerly served on the boards of directors for MCR, LLC, the Ethics Resource Center, and the Ethics and Compliance Officers Association. He also spent time as chairman of the Defense Industry Initiative working group, and he is a frequent lecturer on ethics and compliance.
Prior to founding Better Business Practices LLC, Gnazzo was the senior vice president and general manager of CA Technologies' Public Sector business. His first job at CA Technologies was as chief compliance officer, with responsibility for developing and implementing a comprehensive compliance and ethics program. Prior to CA, he spent 20 years at United Technologies Corporation, the last 10 as chief compliance officer. He began his career in the US Navy's Office of the General Counsel. His last position there was associate general counsel, chief trial attorney, and director of the US Department of the Navy's litigation division.
The annual Leighton Lecture on Ethics and Responsibility is sponsored by the Center for Professional Responsibility in Business and Society and Gies College of Business. This lecture series is underwritten by generous contributions from Richard ('49) and Grace ('50) Leighton.