Pocket-size device could put global dent in oral health crisis
While other new graduates were pursuing their first job, Mark O'Connor was on the other side of the globe, showcasing new technology from his own company at the Rise web summit in Hong Kong. "The instant I presented it, I had people from Africa, Asia, and Europe coming up to me and saying, 'This is what we need,'" said O'Connor, COO of Vitrix Health.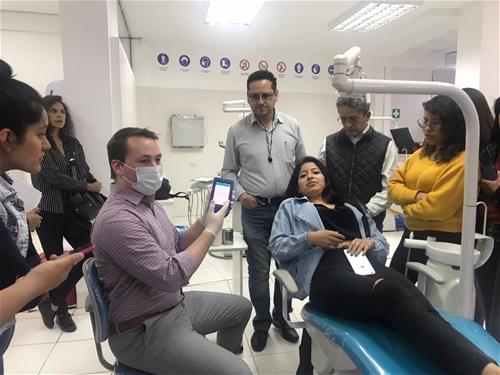 What they needed was a better tool to diagnose oral cancers, gum disease, and other dental issues that are plaguing countries around the world. And thanks to support from Gies College of Business and others at the University of Illinois, Vitrix Health had developed it.
"Gies was really our starting point," said O'Connor, who together with Aashay Patel and Ayush Kumar began their startup venture in 2018 at the University of Illinois. Its genesis happened in an entrepreneurial class led by Professor Madhu Viswanathan. Patel and Kumar first began developing a device to detect cavities and other problems after seeing a global need. Around the world, oral cancer is one of the leading causes of death. Even in the United States, where dental care is plentiful, one-third of the population never sees a dentist, and another third only go when it's medically necessary. According to O'Connor, that leads to 2.1 million ER visits and $800 million in medical costs every year, which could easily be prevented with early screening.
To help solve the problem, the young entrepreneurs built a smartphone-based device with high-contrast imaging and AI support that helps those with medical training detect problems early. With the ORA-1 System, dental exams could soon be part of a basic annual check-up, making better oral care more accessible to millions.
Even before they presented their idea at the Cozad New Venture Challenge at Illinois, they knew they had something, thanks to an early prototype that had made its way to Argentina. "Two days before our presentation, they called us and said they found our first case of oral cancer that they would have missed with our standard exam," recalled O'Connor. That led to a first-place Cozad finish that netted $25,000, followed by a $10,000 prize from the Paul Magelli Foundation and a well-deserved spot in the iVenture Accelerator program.
Powered by Gies College of Business, the iVenture Accelerator supports top student-led startups with knowledge, funding, and access to world-class University of Illinois resources and alumni. Among other benefits, the program helps students connect with previous entrepreneurs and people who know their industry really well, providing excellent networking opportunities. Since iVenture is open to all University of Illinois students, O'Connor and his cofounders, who were all engineering majors, were able to leverage its resources.
For Vitrix Health, that meant connecting with international and domestic contacts that helped the young team establish clinical trials to test their device and collect large amounts of data for building an innovative AI screening model. With the help of other entrepreneurs in the program, they discovered HAX, a hardware accelerator based in China that helped them transform their primitive prototype into a solid working tool. "iVenture laid the initial foundation that helped our company grow into a larger accelerator like HAX and later Health Wildcatters, which supports innovation in the healthcare market."
The latest iteration of the device will get its first big test this January in one of the largest clinical trials in oral health and oral cancer ever conducted. More than 3,000 people will participate in the trials at the Uni Franz Medical University in Bolivia. They'll be applying for their FDA clearance in April and plan to launch in the US in December, followed by rollouts in Europe and Asia later down the road.
O'Connor says the next generation of the device will add artificial intelligence and machine learning to improve accuracy and diagnose health issues in a matter of seconds. For now, it will be simply used as an assistive device that, together with a proprietary algorithm, helps clinicians spot problems.
O'Connor is quick to credit both Gies and the Technology Entrepreneurship Center for helping them get where they are today. "They were our initial funding. They got us networked. They got us the initial clinical trials. If we hadn't done the iVenture program, we probably wouldn't still be around. It was a great launching point."