Oct 31, 2019 2019-10 Faculty Finance
Gies to host insurance-focused climate risk symposium
Climate risk is one of the most pressing issues facing the planet, and researchers and students from the University of Illinois at Urbana-Champaign are partnering with the private sector to identify insurance-focused solutions.
On November 8, University of Illinois will host the "Future of Insurance: Climate Risk and the Insurance Implications," a symposium to address the impact of climate risk on the (re)insurance industry and on global populations. The symposium is being held in partnership with the Office of Risk Management & Insurance Research (ORMIR) at Gies College of Business at the University of Illinois; AXIS Capital, a provider of specialty line insurance and global reinsurance; and media partner The Insurance Insider.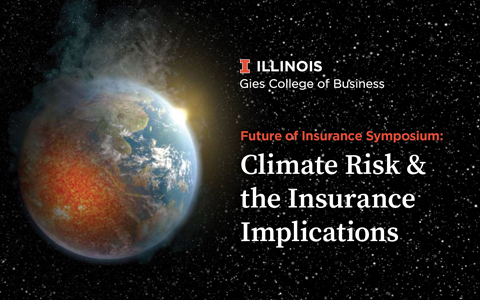 "The University of Illinois possesses formidable expertise in the climate risk space, and our symposium gives a unique opportunity to showcase experts from across campus," said Lynne McChristian, director of the ORMIR. "Proof of the scope and depth of our expertise is highlighted by academic panelists from Gies College of Business and from the departments of Civil & Environmental Engineering, Agriculture & Consumer Economics, and Atmospheric Sciences."
"We believe that specialty insurers and global reinsurers like AXIS have an important role to play in mitigating climate risk, and that it is critical we support the next generation of risk management professionals in addressing these issues," said Eric Gesick, AXIS Capital Group Chief Underwriting Officer. "We're proud to collaborate with the University of Illinois to bring together experts from our industry and across academic disciplines to build partnerships, share information and highlight actions we can take as an industry to address climate risk."
The structure of the symposium is designed for audience engagement, and panel discussions will include representatives from both the university and (re)insurance industry.
Insurance industry professionals participating in the symposium include:
AXIS Capital Chairman Michael Butt will deliver the morning keynote address. Additional AXIS speakers will include business leaders from the company's underwriting, reinsurance catastrophe modelling and renewable energy insurance teams.
Thomas C. Ramey, author of "Deadly Harvest: The End of Mankind"; a Director of AXIS Capital; and former chairman and president of Liberty International, a wholly owned subsidiary of Liberty Mutual Group.
Participants from the Insurance Information Institute, the Journal of Risk & Insurance and media partner The Insurance Insider.
In conjunction with the symposium, AXIS has sponsored a student challenge, "Battle of the Elements." The challenge is a case study that invites competing college teams to research how climate change and population migration affect insurers. The teams are competing for $10,000 in prizes, with the winning team being announced at the symposium on November 8.

Online registration is now open.