Sep 26, 2019 2019-09 Faculty Finance
Kargar brings rare perspective to finance students at Gies
Equipping students to take on a wide range of challenges requires faculty with a broad range of perspectives. And Mahyar Kargar, who joined Gies College of Business as an assistant professor of finance in Fall 2019, definitely checks that box. These days, he's a teacher and committed researcher, fascinated by topics like asset pricing and financial intermediation, but prior to his career in finance, he lived an entirely different life.
"I was mainly designing integrated circuits that go into your mobile devices and servers,"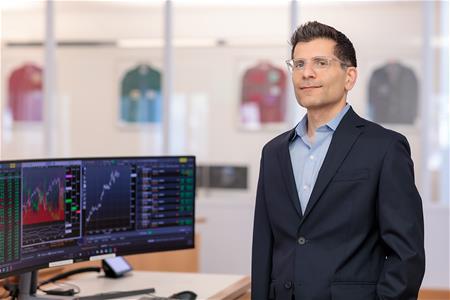 said Kargar, who earned a bachelor's degree in electrical engineering at home in Iran, a master's in electrical engineering from the University of Southern California, and a PhD in electrical and computer engineering from the University of California, Irvine.
After working for a couple startups, he eventually landed a job with Broadcom, a Fortune 500 company and major semiconductor supplier. "It was very innovative," said Kargar, who enjoyed watching the circuits he designed on a computer screen being transformed into chips that could fit into a mobile device. But after about a year, the novelty began to wear off.
"I decided maybe I should try go get into technical management and acquire some management skills, so I got into UCLA Anderson's MBA program," he said. "I took a few finance courses and got really interested in them." As much as he liked the classes, he was even more intrigued by his professor, Bruce Carlin, who had undergone his own career change. "He introduced himself and said he was a surgeon at Washington University in St. Louis and that he completely transitioned to this job."
Inspired by his story, Kargar decided to take a similar leap of faith, pursuing research and a second PhD in finance, which he completed in 2019 at UCLA. He says he has always been fascinated by the study of finance. It's probably safe to say he was the only chip designer at the company who followed financial blogs and read 10-K reports for fun.
"I was really interested in the topic in general because it fit my quantitative background," he said. "I was also really interested in learning more about economics and how asset prices are determined, so it was a really good fit."
Far from being a hindrance, the math and coding skills he acquired during his previous education proved to be useful in his new studies. They gave him a different way to look at problems. "I'm currently looking into some other skill sets that I acquired, like machine learning and artificial intelligence, and trying to see if I can incorporate them into research and hopefully contribute to the university in terms of future courses," explained Kargar, who will teach fixed income at Gies. "With this crazy, weird background that I have, I think I'm in a good position to take the technical side of my skill set and marry it with finance."
Kargar's research interests include asset pricing, macro finance, and financial intermediation. One recent paper studied the tightening of credit standards in the PLUS loan program, which decreased enrollment and revenues at private colleges with low-income students. He says he chose Gies College of Business because of its exceptional reputation and faculty. He was excited about the potential to collaborate with assistant professors who were enthusiastic about starting new research projects.
"There were many great people I could see myself working with or becoming my mentors," says Kargar.