Sep 10, 2019 2019-09 Accountancy Student
Gies PhD student Alex Johanns wins $10,000 Ezzell Scholarship
Gies College of Business doctoral student Alex Johanns has been announced as one of the winners of the first William (Bill) Ezzell Scholarship, awarded by the American Institute of CPAs Foundation. Johanns is one of just five recipients nationwide. The one-time award of $10,000 is given to top accounting PhD candidates who demonstrate "significant potential to become mentors for the next generation of CPAs." The scholarship honors the late Bill Ezzell, a former chairman of the AICPA board of directors.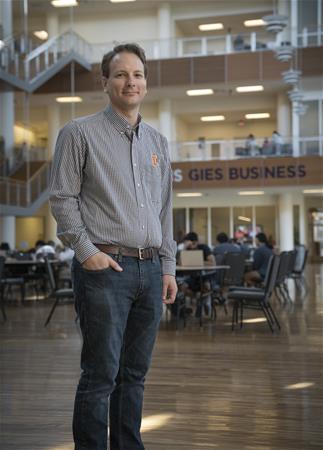 "It's a tremendous honor to win this award and honor Bill's legacy," said Johanns. "Bill was very passionate about bringing people with real-world experience into the classroom. I thought it would be a great fit for me to apply, and fortunately the AICPA Foundation thought so too."
Johanns is starting his third year as a PhD student and focuses on the judgment and decision making of audit professionals in his research. After graduating with a master's in professional accounting from the University of Texas-Austin, he spent nearly 10 years as an auditor at PricewaterhouseCoopers LLP. He says he's always had an interest in teaching, and he has fallen in love with the research side during his time at Gies College of Business.
"If you want to do experimental accounting research, there really is no better place to be than Illinois and Gies Business," he said. "My advisor, Mark Peecher, is one of the premiere audit researchers in the world, and the Illinois accounting faculty is incredibly diverse in regards to both methods and expertise. In addition, the weekly accountancy forums bring in valuable perspectives from top researchers at universities all over the world. It's been an extremely positive experience here so far."
Johanns is adding to the rich legacy of the Gies College of Business Department of Accountancy. Gies' doctoral program is ranked #3 in the nation by Public Accounting Report. The first PhD in accountancy was issued at the University of Illinois in 1939, and for the last 80 years Gies Business has been the gold standard for serious scholars entering the accounting professoriate.
Accounting at Illinois is in Johanns' genes. His father, Jeff, earned a bachelor's in accounting from Gies Business in 1977. After a long career at PwC, Jeff joined the faculty at Texas. He's served as a lecturer for future business students since 2012. While Alex notices his coincidental intersection with his father's career path, he says his decision to enter the field has always been driven by his own passions.
"My dad has always been a positive influence and extremely supportive of my career," Alex said. "I grew up in Texas, but I was always pro-Illini because my dad had such a great experience here. The bottom line is this is an elite accounting program, so it made a lot of sense as the place where I wanted to launch my career."