Sep 9, 2019 2019-09 Faculty Finance
Fonseca: "I have great colleagues" at Gies
You might call it a cross-continental coincidence that Julia Fonseca is starting her professional career at Gies College of Business. The new assistant professor of finance, who was born and raised more than 5,000 miles away in Brazil, will walk the same campus streets as her parents, who both earned their PhDs at Illinois – her father in economics and her mother in chemical engineering.
"I had actually visited here once as a teenager, while my dad was visiting, so I did know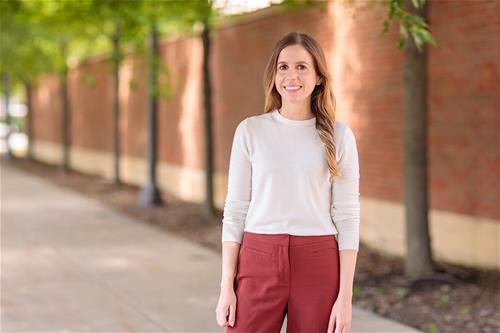 a little bit about the campus," said Fonseca, who added that her brother was born in Urbana, while their parents were finishing their PhDs. "My parents are excited for me to work here. I'm looking forward to them visiting because I'm sure Champaign-Urbana has changed a lot in the last 30 years."
Both of her parents are professors at the Federal University of Rio de Janeiro, where Fonseca earned her bachelor's in economics. Now she'll begin a similar career at Gies, and she's anxious to get started.
"This seems like a really great department," she said. "I have a lot of great colleagues with varied interests – some that directly match mine and others that I'm going to learn a lot from. The dynamics here are tremendous."
Fonseca earned both her master's and PhD in economics from Princeton, and she had multiple job offers before ultimately choosing Gies. Her research interests include corporate finance, household finance, and macroeconomics. In a broad sense, she examines the relationship between credit and the economy.
"There are really two main components to this," she said. "One is how people or institutions interact with credit, such as how access to credit changes the type of worker a company hires. The second component is how a large number of individual decisions aggregate to an economic impact."
One of her recent papers, "Credit Access and Financial Health: Evaluating the Impact of Debt Collection," looked at how recent legislation restricting debt collection affected the amount of credit available to consumers. The idea is that restricting banks' ability to recover on loans might cause them to be less willing to lend in the first place. Fonseca examined how restricting collection practices affected individuals' access to traditional credit, from financial institutions such as banks, and also the reliance of borrowers on alternative credit, such as payday loans.
"Over the last 15 years, many states have restricted debt collection because of concerns about abusive collection practices," she said. "And while I can't speak directly to these abusive collection practices, I find that these restrictions have some unintended consequences for consumer credit markets. Once states restrict debt collectors' ability to collect, there is less bank credit available for consumers and borrowers turn to high-cost payday loans to meet their needs."
"Abusive collection practices and the financial burden of payday loans are two of the most important debates in consumer financial protection," she explained. "My work suggests that policy makers shouldn't view these policy goals in isolation because targeting one will affect the other."
These types of real-world consumer issues are what Fonseca hopes to convey in her teaching. In the spring, she will teach an advanced corporate finance course for undergraduates.
"I really want to get students engaged with the material," she said. "Real-world examples are critical for this because the lessons they learn are lessons they can carry on to other aspects of their life."