May 14, 2018 2018-05 Excellence Giving Stories
Steve Shebik: Architect of Careers and Lives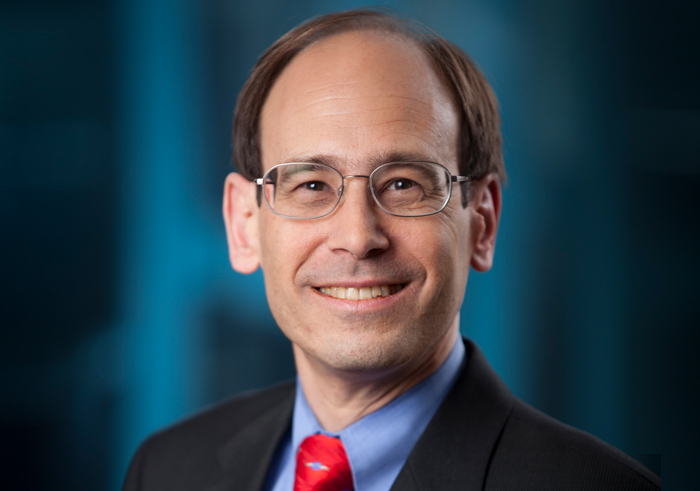 When Steve Shebik was a kid, he wanted to be an architect. His parents even bought him a drafting board, on which he could draw his building schematics.
As he grew, the thrill of developing buildings faded.
But the thrill of developing the people around him has burned brighter and brighter in his life.
Growing Business Leaders of Tomorrow
Nowadays, there are two primary ways that Shebik '78 ACCY/FIN develops people: in his role as vice chair of Allstate, and as an alumnus of the University of Illinois at Urbana-Champaign.
"I'm working with senior officers and high-potential managers, helping them in their careers," Shebik says. "I'm striving to grow the company while helping them become the company's leaders for the coming years."
With his alma mater, it's really no different.
Shebik helps Gies College of Business grow and helps students become the business leaders of the future.
For the past five years, Shebik has helped steer the College's direction as a member of the Dean's Business Council. In 2009, he and his wife, Megan '80 LAS, established a scholarship for students in finance, accounting, or risk management, many of whom would otherwise not be able to attend Illinois.
"We saw a front-page article in the Chicago Sun-Times about a young woman who was accepted to Illinois, but her parents couldn't afford to send her," Shebik recalls.
That touched a chord in the Shebiks. Qualified and motivated students were not able to attend Illinois purely because the cost of higher education had risen beyond their parents' means.
The Shebiks could play a role in helping some of those students.
They chose to play that role. And in doing so, they chose to change lives for the better.
Funding Faculty Growth
From there, the Shebiks expanded their giving to fund faculty research. The Dean's Impact Awards, which recognize faculty who go above and beyond, are supported financially by the Shebik Centennial Faculty Fellow Fund.
"You have to have a strong faculty to develop our exceptional students," he says. "giving them opportunities to do research and develop their own careers, just like the students."
Impacting Lives Through Scholarships
Shebik is very partial to the University of Illinois. His mother was the first in their family to attend college, and she matriculated at Illinois. Illinois was the only university that Shebik applied to when his turn came. And his time here was life-changing.
"I came from a small conservative community, and it opened my eyes when I came here," he says.
Shebik earned degrees in both accounting and finance at Illinois, received an MBA from the University of Chicago in 1980, and he has carved out a highly successful career with Arthur Andersen & Co. (1980-1988), Sears, Roebuck & Co. (1988-1995), and Allstate (1995 to the present).
By his own admission, he wouldn't be where he is today without his degrees earned from Gies Business. And that's a motivating factor for him in providing scholarships for students today.
"Megan and I have met many of the students who have received our scholarships," he says. "We get letters every year, and it's wonderful to read how the scholarships impact their lives."
---
"I believe it's very important to give back to Gies College of Business to make sure students can get the same quality of education that I did."
--Steve Shebik
---
"We need to pay it forward"
Shebik is well aware of the greater need for scholarships today than when he was attending college.
"When I was a student, it cost $500 per semester to go to college," he says. Now, tuition for residents is over $17,000, and for nonresidents, it's over $33,000.
"That's well beyond inflation," he says. "So how do we make that work? How do we give students today the same opportunities we had? We are 60,000 graduates strong. We need broad support from the alumni as well as the corporate sector to meet the opportunities here."
"I believe it's very important to give back to Gies College of Business to make sure students can get the same quality of education that I did."
When people who have been helped by the Shebiks, through funding or otherwise, thank him, he doesn't merely smile and say, "You're welcome." He tells them to turn around and do the same for someone else.
"It will make society a better place," he says. "We need to pay it forward."
The Need for Alumni to Step Up
The idea behind paying it forward, for Shebik, is simple.
"I want to help students get a great education," he says. "I want to launch them in their lives and careers, help them achieve beyond what their dreams are. And I want them to give back to other people, to keep that legacy going of giving back to the College."
Alumni who are fortunate in their lives are in a position to help launch those careers, and those alumni, he says, need to step up.
"Lots of people have been very, very fortunate," he says. "I've been very fortunate. You rarely find people who give significant sums, even though many have that capability. Giving back is not a high priority for them.
"They should come visit the university, see the great work that's being done, talk to the students. They should hear their stories about what their families have to go through today to send two or three or four kids to college, and hear about the debt the students assume when they graduate."
Besides the astronomical rise in the cost of higher education, Shebik says, the competition among universities is another reason he urges alumni to step up and help.
"It's a competitive world out there, and other colleges give more money in scholarships," he says. "Gies doesn't have enough in funding to do that, and we need more."
As for Shebik, he plans to continue giving back to Illinois and Gies Business. It fits perfectly with his game plan of developing people and launching careers.