Jul 7, 2023 Accountancy Alumni Business Administration Faculty Finance Student
Gies Business expands education access to Danville Correctional Center
Gies College of Business is always looking for ways to increase access to education, and in 2022-23, the College took a major step forward in its commitments to access and inclusion by joining the Education Justice Project (EJP) to bring business education to learners in the Danville Correctional Center.
"We're really talking about opening up to populations that have limited access," said Denise Lewin Loyd, associate dean for equity and associate professor of business administration at Gies Business. "This definitely is a population that is frequently overlooked, a population where I think, unfortunately, opportunities for engagement and enhancement are scarcer than we would like for them to be."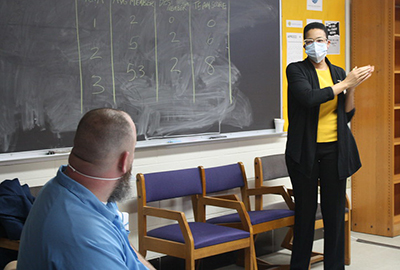 The initiative started in 2021-22 in response to Chancellor Robert Jones' Call to Action to Address Racism & Social Injustice Research Program. Gies Business collaborated with EJP to apply for a grant through the program.

The College of Education's Education Justice Project has brought educational programming to people in prison since 2008. Gies Business faculty members have helped provide some workshops at the correctional center during that time. But after the students showed a desire for more business education opportunities, Gies Business partnered with EJP to implement a robust plan for adding more business-related content and resources.

The College collaborated with EJP to bring business education to the correctional center with a three-part approach: creating an accounting certificate, adding more workshops focused on business content, and increasing the number of business-related books in the prison library.

"In general, an education program is important for anyone at any stage in life, and it's really important for our learners because it allows them to continue building skills," said Jessica Thornton, a Gies Business PhD student who serves as program manager for the EJP accounting certificate. "The accounting program in particular provides a useful skill for them that they can directly use when they are released from prison."

The EJP accounting certificate, modeled after a Gies Business certificate on Coursera, is a hybrid program taught both in person and through recordings over a period of nine months. Because students don't have internet access in the correctional center, they view the recorded content on servers rather than online.

Throughout the five-course program, students learn about balance sheets, income statements, and different types of transactions, finishing with a capstone project. Gies Business faculty members teach the courses with the help of volunteer partners.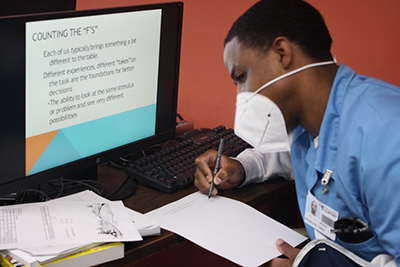 "The students will be able to understand the language of accounting and, therefore, find it very helpful because a lot of our students face difficulties obtaining a job upon release," Thornton said. "There's a lot of job discrimination, so many of them choose to be entrepreneurs. This one certificate won't give them all the skills they need to be an accountant in their business, but it will allow them to understand their accountant, make sure they're making good decisions, and understand what's going on in their business."

The EJP courses and workshops go beyond the practical side of helping prepare students for jobs after their release. They also foster growth – in the students, instructors, and volunteers.

"What we're doing connects so much to our commitments around common humanity," said Loyd, who's taught EJP workshops on teamwork and negotiations. "I think in our society, it's far too easy to 'other' other people, to really see them as different from you. We have the opportunity to grow together and to learn and inform each other."

Whether they're attending courses for a certificate or participating in a business workshop, the students come excited to learn and ready to engage with their instructors and peers.

"They are all so enthusiastic and so involved," Thornton said. "There's always lots of engagement, lots of questions, and connections. It's a great classroom experience. You walk away with a really warm feeling because you realize, 'This is why I love teaching.' It's great."

Become a volunteer
Gies Business' collaboration with EJP offers many opportunities to get involved, even without a business background or existing connection to the College.

Faculty and staff provide workshops and teach courses, but each lead instructor also has a partner who enters the prison with them. The partner doesn't need to have specialized knowledge or business-related credentials. EJP welcomes applications from community volunteers.

And while undergraduate students aren't allowed to help from inside the correctional center, EJP accepts applications from undergrads who want to support the program, including the accounting certificate and business workshops.

"It's an opportunity for growth on the part of the individuals associated with Gies who deliver content to a population of individuals they may have not engaged with in the past," Loyd said. "That's at the heart of diversity. Having experiences, engaging with people who are different from yourself, and creating an environment where you can learn from each other is so tremendous."

Important deadlines: If you'd like to get involved with the accounting certificate for the upcoming semester, email Jessica Thornton at jat11@illinois.edu by July 31.

EJP also accepts general volunteer applications twice a year in the fall and spring. The next general deadline is October 2. Learn more about the volunteer application process and other opportunities to help.